Our boy will often join us in the night.
He wags his way, meanders down the hall
and stumbles in our room, squinting at light.
He bounds in bed with us as if heís small.
He fills the space where we once talked and touched
with legs and arms that stretch like urban sprawl.
I know once heís full-grown he wonít need much.
Iíll miss his lopey hugs, his knowing grins,
but now he crowds! His twitching paws are such
blunt weapons. With each snore, my patience thins.
Yet soon enough this pup will leave our sight.
Some alpha trainers see this as a win,
but Iíll think that the sleep he stole felt right
all curled up back to back, each three dog night.


© by Amy Baskin.
Used with the authorís permission.
†
†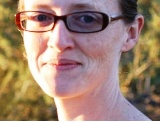 Amy Baskin lives with her husband and two children in Portland, Oregon. When sheís not writing, she matches up international students at Lewis & Clark College with local residents to help them feel welcome and at home during their time in Oregon. Amy enjoys camping with her family and seeking out the beauty in life. Learn more about her at Instagram: @AmyBaskinWrites or Facebook: @AmyBaskinWrites.
†
†
†
†
Wilda Morris:
Very clever and well-written - and fun!
Posted 05/04/2020 06:10 PM
barbsteff:
"?legs and arms that stretch like urban sprawl" Perfect! I enjoyed this read.
Posted 05/04/2020 03:12 PM
Sharon Waller Knutson:
I meant to say the poem could have been describing an adolescent son using canine metaphors or it could be describing a dog.
Posted 05/04/2020 11:01 AM
Sharon Waller Knutson:
I loved this clever sonnet that could be describing an adolescent son with "legs and arms that stretch like urban sprawl" or a dog with metaphors like "pack, pup, twitching paws as blunt weapons Alpha trainers and three dog night." Either way it works.
Posted 05/04/2020 10:53 AM
michael escoubas:
Really well-crafted sonnet, Amy!
Posted 05/04/2020 10:22 AM
paradea:
Perfect!!!
Posted 05/04/2020 09:55 AM
KevinArnold:
At the end, I?m quite sure this is a dog, but not positive it?s not a growing son with some canine clues to throw me off track. Dogs don?t have legs and arms. Love it.
Posted 05/04/2020 09:29 AM
mail@schoolbusmart.com:
Even when they?re small, they're too big, They still snore, they twist, they cough, they dream. I wake, I tolerate, I adjust, and when they're not there I miss them. Thank you. Randy
Posted 05/04/2020 08:39 AM
Larry Schug:
I've had dogs like this-God bless them. You've captured them and the experience of a dog in bed so well. My old dog, beside me at this moment, got me up at 5 a.m. like he does every morning, though he does sleep on his own bed.
Posted 05/04/2020 06:43 AM
ronwhiteaker:
As a person who has loved and lost many wonderful canine souls, my 12-year guests, my dear "wigglebutts," these words tugged at my heart. Blessed be. Thank you, Amy Baskin,
Posted 05/04/2020 06:37 AM