Maturity approaches
With the dubious charm
Of old shoes,
All flapping soles
And tattered laces,
Gaping brass eyelets,
And sagging gray tongue.
But a thump,
A twang,
A rippling riff signal
The band is nearly in tune
And lanternsó
Some blue, some red,
Many goldenó
Shine on the patio.

So
Saunter on by,
Mr. Scuffed Leatheró
At least for now.


© by Robert Walton.
Used with the author's permission.
†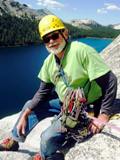 Robert Walton is a retired middle school teacher and a lifelong rock climber with many ascents in the Sierras and Pinnacles National Park. His publishing credits include works of science fiction, fantasy, and poetry. Robert's historical novel, Dawn Drums, won the Tony Hillerman Prize for best fiction in the 2014 New Mexico Book Awards. Most recently, his short story, "Do you feel lucky, Punk?" received a prize in the 2018 Bartleby Snopes Dialogue Only contest. Learn more about Robert at http://chaosgatebook.wordpress.com/.
michael escoubas:
Higher education for sure, Robert!
Posted 05/30/2020 08:44 AM
KevinArnold:
Love how this poem goes one place and stays there, deeper and deeper.
Posted 05/30/2020 08:08 AM
Larry Schug:
Cherish every step taken and be glad though you shuffle.
Posted 05/30/2020 07:22 AM
laurenepersons:
Those broken-in, scuffed up shoes still have some good walkin' to do. Love the poem.
Posted 05/30/2020 07:07 AM