The air vibrated
with the sound of cicadas
on those hot Missouri nights after sundown
when the grown-ups gathered on the wide back lawn,
sank into their slung-back canvas chairs
tall glasses of iced tea beading in the heat

and we sisters chased fireflies
reaching for them in the dark
admiring their compact black bodies
their orange stripes and seeking antennas
as they crawled to our fingertips
and clicked open into the night air.

In all the days and years that have followed,
I don't know that I've ever experienced
that same utter certainty of the goodness of life
that was as palpable
as the sound of the cicadas on those nights:

my sisters running around with me in the dark,
the murmur of the grown-ups' voices,
the way reverence mixes with amazement
to see such a small body
emit so much light.
Used with the authorís permission and with permission granted by Friends Journal,†
the monthly Quaker magazine where it first appeared.†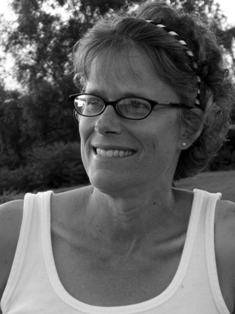 Julie Cadwallader Staub grew up in Minnesota with five sisters, her parents and a dog, beside one of that state's small lakes. Her favorite words to hear growing up were, ?Now you girls go outside and play." She now lives in Vermont and still loves to explore the natural world out her back door. Julie's poems have been published in a number of journals and magazines, and included in anthologies such as The Cancer Poetry Project and Garrison Keillor's Good Poems: American Places. She was awarded a Vermont Council on the Arts grant for poetry in 2001. Julie's first collection of poems, Face to Face, will be published by Cascadia Press in 2010. Learn more about her at www.juliecspoetry.com.
joecot:
"the way reverence mixes with amazement" -- yes...
Posted 10/12/2016 08:49 AM
Cindy:
I like this uplifting poem; it is reassuring.
Posted 06/25/2014 09:17 AM
Katrina:
I love the way your insects click open. The Friends are good.
Posted 06/25/2014 08:03 AM
mimi:
a lovely poem, full of light...
Posted 06/25/2014 07:19 AM
Charly:
What a lovely poem. It brought back memories to me of me and my sister on our front porch after dark in the summer.
Posted 06/25/2014 06:55 AM
erinsnana:
Lovely!
Posted 06/25/2014 06:16 AM
phebe.davidson@gmail.com:
There have been so many fewer fireflies these past few decades, and this year I have been seeing more of them again--the poem takes me back in time, brings me home in its own way.
Posted 06/25/2014 05:59 AM