On a calm morning
after an evening of rain
a sudden gust

trembles the leaves
of the sturdy oak
the sweetgum, the maple

Here then gone
a reminder
to pay attention

Peace is transitional
Enjoy it
Remember it

So when the next storm arrives
as it† inevitably will
you can find peace
still
inside


© by Mary Goehring.
Used here with the authorís permission.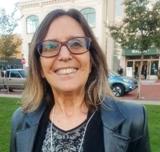 Mary "Ray" Goehring spent her childhood in Wisconsin, then lived in Upstate New York, Maryland, and Illinois. She now divides her days between Wisconsin and East Texas. A prairie enthusiast and retired landscape designer, Maryís poetry is heavily influenced by nature, family and friends.
†
†
†
jmilfordtv:
Calm then sudden gust seems to say look, I am here.
Posted 06/30/2020 07:51 PM
Lori Levy:
Especially like the line about how the sudden gust "trembles the leaves."
Posted 06/29/2020 09:01 PM
Jo:
Reading your poem this morning brought me peace. We need to cultivate the peace inside. Thank you, Ray.
Posted 06/29/2020 11:21 AM
3CatsintheHouse:
Your poem brings me peace!
Posted 06/29/2020 09:54 AM
cork:
A strong gust blew down the big tree in our neighbor's yard the other day.
Posted 06/29/2020 09:34 AM
paradea:
Beautiful!!
Posted 06/29/2020 09:10 AM