Love's Retreat

At first I admired you:
How cunning of you, to be
the same deep green
as the leaves you inhabit,
to have those tasteful stripes
of red and that jaunty horn
on your tail. But then
I saw how you had ravaged
my tomato plants.

I couldn't kill you; plucked you
instead from your leafy perch
and flung you first
onto the grass, then
when you refused to go away
I hurled you onto the steaming
asphalt, a few warm red orbs
thus saved from your rapacious
teeth, but you kept coming back.

Now I hunt you down,
turn over every leaf, inspect
each stem. Now I see
how winsome you are at first,
a little green thread far smaller
than a stem. I pull you right off
the leaf and crush you
under my shoe. I find you
when you're older, not yet
a chubby bus but nearly so
and I tear you off that ruined leaf
and smash you into the dirt.
I can now say that I know
how you would look as jam: 
mint green and spreadable.


From Wild Domestic (Pearl Editions, 2011).
Used with permission.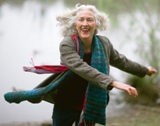 Tamara Madison is the author of the chapbook, The Belly Remembers, and two full-length volumes of poetry, Wild Domestic and Moraine, all published by Pearl Editions. She is a dog lover, a swimmer, and a native Californian who has lived in many different places in the U.S. and abroad. Tamara is thrilled to have recently retired from teaching English and French in a Los Angeles high school, and still more thrilled to have recently become a grandmother.
Lori Levy:
Great to see the contrast between the two poems.
Posted 07/14/2020 11:57 PM
peggy.turnbull:
A satisfying poem!
Posted 07/14/2020 09:34 AM
Jccjccac@aol.com:
I enjoyed your sweet spreadable revenge!!
Posted 07/14/2020 09:31 AM
paradea:
And now, it's REAL!!! Love it!!
Posted 07/14/2020 09:29 AM
michael escoubas:
Nice contrast with yesterday's poem, Tamara--we protect what we love most!
Posted 07/14/2020 08:16 AM
Larry Schug:
Whoa! That's how some people feel about some people! Not sure how this became a metaphor in my thinking, but it certainly did. Good work
Posted 07/14/2020 07:03 AM
Contents of this web site and all original text and images therein are copyright © by Your Daily Poem. All rights reserved.
As an Amazon Associate I earn from qualifying purchases. Purchasing books through any poet's Amazon links helps to support Your Daily Poem.
The material on this site may not be copied, reproduced, downloaded, distributed, transmitted, stored, altered, adapted,
or otherwise used in any way without the express written permission of the owner.