There's music in the air.
Opening the symphony
a hummingbird flits
up and down
like a busy flute.
A robin sets the beat
stomping across the grass.
In the gentle breeze,
a field of wheat,
waves back and forth
like the bows of violins.
A crow adds its raucous voice,
like a double bassoon.
The running brook mimics
the tinkling of a piano, and
a buzzing bee picks up
the soothing trill of a harp.
Nature's orchestra
creates music on a summer day
when you listen with your heart.


© by Bob Kimberly.
Used here with the author's permission.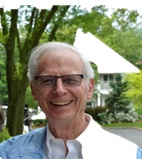 Bob Kimberly started writing poetry fifteen years ago after he retired and sold his horse farm, where he and his wife, Nancy, bred and boarded riding horses for nearly 30 years. To keep busy, he joined a creating writing class for senior adults, and discovered there that he enjoyed writing poetry. Bob has published a number of chapbooks, mostly for his family and close friends, and has also had a few poems published in newsletters and calendars. He lives in Bellevue, Washington.
lover:
i can feel my heart flutter
Posted 08/13/2020 06:52 AM
Lori Levy:
I like the comparisons to musical instruments.
Posted 08/11/2020 09:54 PM
DELINDMAN:
Great imagination!
Posted 08/11/2020 07:53 PM
Cathy's Sister:
Listen with your heart! What a great poem!
Posted 08/11/2020 05:30 PM
Janet Leahy:
I love listening to the orchestra in your poem, wonderful to hear it again and again. Thanks Bob.
Posted 08/11/2020 03:29 PM
lover:
i can feel my heart flutter
Posted 08/11/2020 02:36 PM
Stephen Anderson:
I think that we all should listen more closely to Nature the way you have evinced in this poem, Bob.
Posted 08/11/2020 11:50 AM
barbsteff:
stomping ? robins. What an image! Fun.
Posted 08/11/2020 10:38 AM
michael escoubas:
Someone has said that poets are professional "observers." This poem demonstrate the truth of that dictum. Thank you, Bob.
Posted 08/11/2020 10:31 AM
mail@schoolbusmart.com:
Waving wheat like bows of violins. Nice. Randy
Posted 08/11/2020 09:25 AM