Behind us, balloons drunk
with helium waltz together
as light on their feet as Arthur Murray.
Beaded curtains sway invitations
to the foxtrot, the tango,
and a fan turns the air
like the perfect dance partner.
Everything says we are ready.
Everything says this is what
we have waited for
all those nights our pillow
partners held us to them,
barely touching our waists,
leading us among phantom
couples who dip and glide,
fluid and seamless.
But tonight the boys stand like bayonets,
planted together, angled apart, arms crossed.
Their white Oxford shirts
battened down, starched stiff
as the box steps they strain to remember.
They inspect the wall, the ceiling,
the parquet dance floor
for patent leather mines
waiting to detonate at each misstep.
Who knows, after all,
where danger might lurk,
the crinoline skirt, the anklet sock
its lacy edge only half folded down.

From Sex Education (Iris Press, 2004)
Used with the author's permission.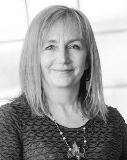 Janice Moore Fuller has published four poetry collections, including Séance (Iris Press) winner of the 2008 Oscar Arnold Young Award (North Carolina poetry book of the year).  Her most recent poetry book, On the Bevel, was published in March 2014 by Cinnamon Press in north Wales.  A regular workshop leader in Wales and England and at the Wildacres Writers' Workshop, Janice has been a Fellow at artist colonies in Ireland, Scotland, Spain, and Portugal.  She is Writer-in-Residence and Professor of English at Catawba College in Salisbury, NC, where she has been awarded the Swink Prize for Outstanding Classroom Teacher by the Faculty Senate and has been selected Professor of the Year five times by popular vote of the students.  Learn more about Janice at www.janicemoorefuller.com.
Shoshauna Shy:
Love the helium and bayonets. Sends me right back to Nichols Middle School and the 8th grade graduation dance when I got my first period.
Posted 04/28/2015 10:52 AM
hujsaked@aol.com:
Everyone should dance. Wars would be unthinkable.
Posted 04/28/2015 09:04 AM
cork:
The foxtrot and the box step 1948 and Roberta.
Posted 04/28/2015 08:23 AM
Cindy:
pretty funny, pretty true; beautifully put
Posted 04/28/2015 07:38 AM
rhonasheridan:
Delightful. It says it all perfectly. Great memories so 'thank you' I do not know what Alysal is saying. I cannot equate it to the poem.
Posted 04/28/2015 05:43 AM