Carl Sandburg was a Chicago guy who
clearly knew nothing of California's coast.
Our fog does not come on little cat feet;
it lumbers in and throws itself down on the coastline
like a wooly mammoth come back to life,
gray and heavy, covering everything,
leaving little visible. No one can look
over harbor and city; they have disappeared.
Sounds are muffled; a foghorn
sighs mournfully. The sun hides.
The mammoth fog does not move on;
it settles in and stays for days, in no hurry to leave.
Carl Sandburg had it all wrong.


© by Juliane McAdam.
Used with the author's permission.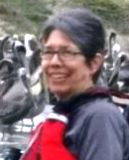 Juliane McAdam is a California native who grew up in the stark beauty of the Mojave Desert. After college graduation, she completed a graduate school program training teachers for disadvantaged areas. She began her teaching career in South Los Angeles in a bilingual program. For the last 27 years of her career Juliane taught English and Spanish to middle school students in Los Angeles, writing poems with them. Now retired and living near Morro Bay on California's beautiful Central Coast, she enjoys walks, kayaking, playing piano, and writing poems for herself to express observations and memories.
Jancan:
This is SO descriptive, a great blend of literal and figurative language. I love your set-things-straight approach!
Posted 10/24/2020 10:26 AM
wayne.goodling@yahoo.com:
Good for you! Thanks.
Posted 10/24/2020 08:07 AM
Lori Levy:
Love the "wooly mammoth" metaphor.
Posted 10/22/2020 03:30 PM
Anastasia:
Exactly! It's also not particularly quiet?I used to work near the top of a 40+ story highrise, and the first time the fog rolled in while I was the office was quite a revelation! It's a great vantage point to watch from, however.
Posted 10/22/2020 01:06 PM
Janet Leahy:
Great first two lines, great last line and I like everything between these lines. Yes, fog does lumber and throw itself down, even at times on the shore of Lake Michigan. Thanks Juliane.
Posted 10/22/2020 11:06 AM
cork:
You and Annie Candelaria are my Morro Bay heroes.
Posted 10/22/2020 09:57 AM
paradea:
Good one!!!
Posted 10/22/2020 08:54 AM
michael escoubas:
Sharon Knutson said it all Juliane, and I second her emotion!
Posted 10/22/2020 08:41 AM
Sharon Waller Knutson:
I love this clever, humorous, picturesque insightful poem. I love how she took Carl Sandberg's metaphor of "little cat feet" and turned it into "a wooly mammal come back to life."
Posted 10/22/2020 06:41 AM