There,
momentarily mute,
lies the fusion of
yin and yang.
His curiosity,
her creativity.
His thick blonde curls,
Her glossy dark mane.
Their ability to look beyond
work schedules and world events
and home repairs and lockdowns
and illness and investments
and life
culminating in this
seven-pound amalgamation
of love.
She who has just left God
gazes up with complacent candor
at those who have waited so fervently,
so excitedly,
so long.
Such a big void
for so tiny a soul to fill!
Our hearts latch on,
lay claim,
gush love.

A variation of this poem appears in Dancing with My Daughter:
Poems of Love, Wisdom, and Dreams (Loyola Press).
Used with permission.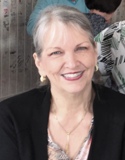 Jayne Jaudon Ferrer is the author of four books of poetry and a nonfiction book about games. She speaks frequently at churches, schools, and writing-related events and her work has appeared in hundreds of publications. Jayne is the founder and editor of YourDailyPoem.com and enjoys reading, music, old movies, gardening, hiking, and good conversation. A native Floridian, Jayne has lived in Greenville, South Carolina, for 25 years. Learn more about her at www.jaynejaudonferrer.com.
wayne.goodling@yahoo.com:
beautiful. thank you.
Posted 10/27/2020 11:25 AM
Tracers645:
Congratulations! Beautiful baby, Beautiful poem!!!
Posted 10/26/2020 03:19 PM
Anastasia:
How wonderful! Blessings to you and your lovely family, Jayne!
Posted 10/25/2020 04:22 PM
jeeger:
Aw! :-) <3
Posted 10/25/2020 11:38 AM
Shoshauna Shy:
Such a beautiful poem for a beautiful blessing, Jayne!
Posted 10/24/2020 09:50 PM
waterpoet:
First, Congratulations🎉🎉!!! A big welcome to little Reyna Claire (such a lovely name). Your Gift matches the beauty and joy of the gift in this child being born into a world that needs her so very much!! Enjoy and may your family be well💕.
Posted 10/24/2020 08:46 PM
finney@charter.net:
So beautiful...so very beautiful....
Posted 10/24/2020 08:29 PM
Mama Goose:
So sweet. Hope you live nearby your beautiful new grandchild.
Posted 10/24/2020 07:27 PM
TheSilverOne:
As time goes on, the joy of birth becomes more and more wonderful. Such a darling baby! _Doris Bezio
Posted 10/24/2020 07:09 PM
Larry Schug:
I love the child's "complacent candor" and the lines "such a big void for so tiny a soul to fill". Both say so much about al of us than do the mere words. The beauty of poetry and the beauty of birth! I'm happy for you!
Posted 10/24/2020 02:21 PM
BAMars:
Congratulations and welcome! It is an act of hope, especially these days, to bring a baby into the world, and it warms my soul to read this.
Posted 10/24/2020 02:03 PM
bbatcher:
I predict she'll be a poet.
Posted 10/24/2020 01:25 PM
bqwriter:
Oh Jayne, I was thrilled to read your perfect poem and see this precious baby! Both suffused me with a sense of peace this morning. Thank you for all the blessings you confer with your work and with your love.
Posted 10/24/2020 12:34 PM
joecot:
Such a gift, this poem. Reyna Claire, welcome to a world of loving words.
Posted 10/24/2020 11:58 AM
paradea:
Just beautiful...baby and poem. Congratulations, Jayne and family!!!
Posted 10/24/2020 11:13 AM
peninsulapoet:
Lovely! Congratulations!
Posted 10/24/2020 11:10 AM
Gilbert Allen:
A fitting celebration of a glorious morning in Greenville, SC!
Posted 10/24/2020 10:51 AM
tiddles:
Congratulations, Jayne. She's beautiful. Your poem makes me miss my own mother, and both my grandchildren. Thank you for this "Gift."
Posted 10/24/2020 10:49 AM
mail@schoolbusmart.com:
Congratulations on the wondrously bundled fusion of yin and yang arriving so timely to your mother's birthday. I know that it will be a joyful remembrance in years to come ? a tiny soul to fill. Randy
Posted 10/24/2020 10:39 AM
Jancan:
So beautiful and moving--celebratory! Made me smile.
Posted 10/24/2020 10:20 AM
gailcomorat:
Congratulations, Jayne! Lovely poem and gorgeous grand baby!
Posted 10/24/2020 10:19 AM
Jean Colonomos-1:
What an awesome gift to receive the beauty of a new life at this time. Congratulations to you and your family. We too "latch on" in memory.
Posted 10/24/2020 10:18 AM
Sharon Waller Knutson:
I love all of your poems Jayne. But this poem is a gift as well as your darling grandchild. You've captured the feelings of many of us grandparents, cheered up us shut-ins and brought hope to those with no hope. Thank you.
Posted 10/24/2020 10:07 AM
michael escoubas:
Congratulations Jayne! This poem is fresh as dew shimmering in morning sun. "Gift" captures the scene perfectly.
Posted 10/24/2020 09:36 AM
KevinArnold:
Wonderful warmhearted poem. Hope really does spring eternal, right from the miracle of birth.
Posted 10/24/2020 09:34 AM
Cathy's Sister:
Lovely, poignant poem! Great description of a new family! Congratulations on your new grandchild!
Posted 10/24/2020 08:52 AM
cork:
Our second great-grandson arrived this month. You poem expresses our thoughts.
Posted 10/24/2020 08:44 AM
pwax:
Beautiful poem! And what a sweetie Reyna Claire is! Congratulations, Grandma.
Posted 10/24/2020 08:35 AM
Stephen Anderson:
What a wonderful gift to you in these tough times, Jayne! A lovely and fitting poem to boot.
Posted 10/24/2020 08:17 AM
bobbi43sml@aol.com:
Writing this with a wet face. What a gift.... and it keeps on giving. Congratulations and welcome welcome Reyna Claire.
Posted 10/24/2020 07:30 AM
MatthewMiller:
Congratulations! What joy!
Posted 10/24/2020 07:15 AM
paula:
Lovely!
Posted 10/24/2020 07:01 AM
r1manchester:
a "Grammy" once again! I'm sure this baby will be hugged and "mushed" for a long time to come. Happy for you and family.
Posted 10/24/2020 06:36 AM