The chill of autumn is upon us
and leaves have begun to fall,
their herb-like odor
redolent of those days
when after school
we threw ourselves
shouting and laughing
onto piles of dry leaves,
or, older, played ball
on the leaf-flecked streets
until our hands grew numb
with the cold of dusk
and we were called
into the warm brightness
of our homes.


© by Richard Greene.
Used with the author's permission.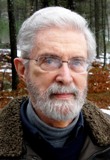 Richard Greene began writing poetry in the 8th grade, inspired by the opening lines of Longfellow's "Evangeline"—"This is the forest primeval. The murmuring pines and the hemlocks / Bearded in moss and in garments green, indistinct in the twilight"—which he was required to read in class. In college, after a classmate deemed Richard's rhyming poem "trite," he stopped writing until, a couple of years later, a class with Henry Rago, subsequently editor of Poetry magazine, inspired him to resume his efforts. But poetry fell by the wayside for almost forty years as a busy career in international development consumed his life. As retirement approached, however, Richard's dedication to poetry returned; he has now self-published a book (Explorations, Antrim House Books), and shares a "poem of the week" (get on the mailing list by requesting it at greeneplace@gmail.com). Richard lives in Nyack, New York; learn more about him at www.greenepage.net.
Jo:
Thank you Richard. A lovely poem.
Posted 11/03/2020 10:51 PM
TheSilverOne:
Always the most beautiful season...This poem brings that out so well.
Posted 11/03/2020 09:31 PM
jennath:
Such a moving reflection of the season
Posted 11/03/2020 03:55 PM
Lori Levy:
Beautiful images.
Posted 11/03/2020 02:25 PM
KevinArnold:
Yes, ?of our homes.?
Posted 11/03/2020 08:59 AM
michael escoubas:
Richard, your poem is both nostalgic and contemporary at once!! Thank you, well done.
Posted 11/03/2020 08:51 AM
cork:
And I recalled the smell of burning leaves in the fall.
Posted 11/03/2020 08:50 AM
mail@schoolbusmart.com:
Good memories captured. Randy
Posted 11/03/2020 08:24 AM
MatthewMiller:
This weekend my kids did exactly those things, and it is good to be able to call them to warm brightness at home!
Posted 11/03/2020 05:47 AM
paula:
lovely!
Posted 11/03/2020 05:34 AM