From the silent deep
The waters sweep,
But faint on the cold white stones,
And the wavelets fly
With a plaintive cry
O'er the old earth's bare, bleak bones.

And the spray upsprings
On its ghost-white wings,
And tosses a kiss at the stars;
While a water-sprite,
In sea-pearls dight,
Hums a sea-hymn's solemn bars.

Far out in the night,
On the wavering sight
I see a dark hull loom;
And its light on high,
Like a Cyclops' eye,
Shines out through the mist and gloom.

Now the winds well up
From the earth's deep cup,
And fall on the sea and shore,
And against the pier
The waters rear
And break with a sullen roar.

Up comes the gale,
And the mist-wrought veil
Gives way to the lightning's glare,
And the cloud-drifts fall,
A sombre pall,
O'er water, earth, and air.

The storm-king flies,
His whip he plies,
And bellows down the wind.
The lightning rash
With blinding flash
Comes pricking on behind.

Rise, waters, rise,
And taunt the skies
With your swift-flitting form.
Sweep, wild winds, sweep,
And tear the deep
To atoms in the storm.

And the waters leapt,
And the wild winds swept,
And blew out the moon in the sky,
And I laughed with glee,
It was joy to me
As the storm went raging by!


This poem is in the public domain.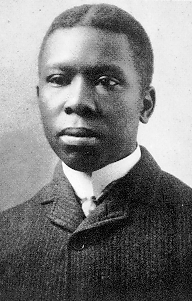 Paul Laurence Dunbar (1872-1906) was from Ohio. He wrote his first poem at the age of six, was editor of his high school newspaper, and published his first book at twenty. His writing attracted attention from the very beginning, and Paul became well-known in both America and around the world. Like James Whitcomb Riley, who was a fan of his young contemporary's work, Paul wrote many of his poems in dialect. Besides a dozen books of poetry, Paul wrote four short story collections, five novels, a play, and the first Broadway musical ever written and performed by African-Americans. A tremendously successful poet whose work was being published in all the major literary publications of his day, Paul's life was cut tragically short by tuberculosis.
Anastasia:
Good choice! Thank you!
Posted 11/09/2020 02:48 PM
Ron Stewart:
Reminds me very much of Robert Service Cremation of Sam McGee. "There are strange things done in the midnight sun by the men who moil for gold" Thank you for bringing this to us Jayne
Posted 11/09/2020 12:01 PM
michael escoubas:
Truly masterful command of language; I especially like Mr. Dunbar's use of sibilance in stanza 2.
Posted 11/09/2020 11:12 AM
Jean Colonomos-1:
Bravo!
Posted 11/09/2020 10:17 AM
TheSilverOne:
Wonderful poem, taking me out in the middle of a storm at sea.
Posted 11/09/2020 10:03 AM
Cathy's Sister:
What a gem! Great description of a storm at sea!
Posted 11/09/2020 09:49 AM
mail@schoolbusmart.com:
I agree with Cork///// I kept reading the poem and appreciating the meter and rhyme as well as imagery. Wonderful piece that you have posted. Randy
Posted 11/09/2020 09:46 AM
cork:
I love the rhythm and the rhymes.
Posted 11/09/2020 08:59 AM