Up in the morning's no for me,
     Up in the morning early;
When a' the hills are cover'd wi' snaw,
     I'm sure it's winter fairly.

Cauld blaws the wind frae east to west,
     The drift is driving sairly;
Sae loud and shill I hear the blast,
     I'm sure it's winter fairly.

The birds sit chittering in the thorn,
     A' day they fare but sparely;
And lang's the night frae e'en to morn,
     I'm sure it's winter fairly.


This poem is in the public domain.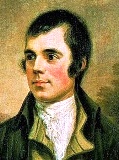 Robert Burns (1759 - 1796) was born into a farming family in Scotland. Though he followed in his father's footsteps, working as a tenant farmer, Robert was a practicing poet and songwriter throughout his life, ultimately becoming known as Scotland's national poet. Nature was a favorite and constant theme of his poetry; other favorite subjects were class inequality and Scottish culture.  
Anastasia:
I share the opening sentiment! I also share a birthday with Mr. Burns, which led to great hilarity one Hogmeney which I hosted. The emcee said that the next performer was reciting a piece in honor of my birthday—only the performers had gotten out of order while waiting, and the next one up started reciting "Address to a Haggis"! The emcee was mortified, the performer confused. The emcee stopped the recitation as soon as he realized what was happening, and was greatly relieved to see that I was amused, rather than offended. The actual poem was supposed to be "A Red, Red Rose", which I appreciated.
Posted 01/20/2021 11:38 PM
Darrell Arnold:
The opening line makes me laugh. I don't know what kind of farming Burns did, but I think his idea of not being up early is just a fantasy. Farmers and other working people like me are up before dawn or we are burdened with almost unbearable guilt. I visited Scotland once. Loved the women but the men were grouchy.
Posted 01/13/2021 12:51 PM
carlpalmer:
Reading this out loud makes me smile, feel his accent, hear his voice without diacritic glyphs getting in the way.
Posted 01/13/2021 12:41 PM
cork:
I identify with that opening line.
Posted 01/13/2021 10:00 AM
KevinArnold:
Aye, Robbie Burns.
Posted 01/13/2021 09:32 AM