In January, I wish for you black velvet skies
and a million dazzling stars.
In February, may you walk beneath them,
a loved one's hand in yours.
For March, let fresh winds bluster
through you, clearing out the old,
and may April's halo of tender leaves
inspire you to new growth.
A dance 'round a Maypole
is my wish for you in spring,
and fields of June blossoms to nap in.
July, may you know a quiet cove,
and endless hours to dream there.
For August, I wish you blue lakes to sail on,
September, fiesta days
of orange, red, and gold.
In October, may that harvest moon
paint your nights with light,
and the soft snows of November
enfold you in stillness.
At last comes dark December,
and my wish for you then, and
always, is peace.


This poem first appeared on ecosquared (December 2010).
Used here with permission.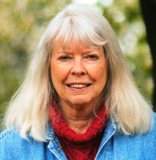 Photo by Len Villano
Sharon Auberle is a poet and photographer who lives in Door County, Wisconsin.  Author of six poetry collections, her work has appeared in numerous publications and on-line magazines, as well as a variety of anthologies. Sharon served as Poet Laureate of Door County from 2017- 2019; her latest book is Dovetail, a poetry/sketch collaboration with poet and artist Jeanie Tomasko, which won the Wisconsin Fellowship of Poets Annual Chapbook Prize. Sharon's earlier years of living in the spare landscapes of the Southwest, and now surrounded by  Northern woods and waters, along with interests in Zen, music, and photography, provide her with endless inspiration.
KinVT:
What beautiful perspective of what is truly important in life; what gives contentment & true joy --- all things that not even a global pandemic can take away. Thank you for the poetic reminder.
Posted 01/25/2021 09:10 PM
Anastasia:
What a wonderful wish for the new year, Sharon! May your year be as wonderful, too!
Posted 01/17/2021 03:32 PM
Wilda Morris:
Yes! Perfect for a New Year's greeting card!f I wish you peace.
Posted 01/16/2021 06:08 PM
MLove:
This is beautiful! It would make a lovely New Year's Day greeting card!
Posted 01/16/2021 02:49 PM
Lori Levy:
12 beautiful wishes!
Posted 01/16/2021 02:15 PM
sharon auberle:
thank you all for your kind and gracious words. much appreciated!
Posted 01/16/2021 01:40 PM
Jancan:
a lovely breath of fresh air--wonderful imagery
Posted 01/16/2021 12:27 PM
Linda Lee Konichek:
A beautiful poem of tantalizing images...thank you!
Posted 01/16/2021 11:52 AM
Stephen Anderson:
Twelve beautiful and poetic wishes filled with your grace and thoughtfulness. Bravo!
Posted 01/16/2021 11:33 AM
peninsulapoet:
Wonderful, my friend ❤️
Posted 01/16/2021 10:54 AM
mjorlock:
Nice, Sharon! It's always good to hear from the "Joni Mitchell" of Sister Bay.
Posted 01/16/2021 09:36 AM
Nicholas:
Well done. Kind and comforting on a snowy day in Paris!
Posted 01/16/2021 07:50 AM
Larry Schug:
A beautiful poetic meditation and prayer full of good heartedness.
Posted 01/16/2021 07:22 AM