It is said that before entering the sea
a river trembles with fear.

She looks back at the path she has traveled,
from the peaks of the mountains,
the long winding road crossing forests and villages.

And in front of her,
she sees an ocean so vast,
that to enter
there seems nothing more than to disappear forever.

But there is no other way.
The river can not go back.

Nobody can go back.
To go back is impossible in existence.

The river needs to take the risk
of entering the ocean
because only then will fear disappear,
because thatís where the river will know
itís not about disappearing into the ocean,
but of becoming the ocean.


This poem is in the public domain.
†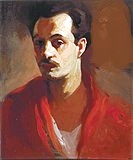 Kahlil Gibran (1883 - 1931), best known for his book, The Prophet, was born in Lebanon to an impoverished family. He moved with his mother and siblings to Boston at the age of 12, but returned to Lebanon three years later to attend college. He was studying art in Paris when a family death brought him back to Boston. Gibran ultimately settled in New York, where he gained recognition for his poems and short stories as well as for his drawings and paintings. Published in both English and Arabic, Gibran claimed that the Bible had the greatest influence on his writing. (He was a Catholic.) He also greatly admired the work of William Blake, Walt Whitman, and Syrian writer Francis Marrash.
thedreamfeltsoreal:
Just wow
Posted 01/23/2021 11:19 PM
TheSilverOne:
Always loved Gibran. I discovered him in a pamphlet in the hospital, giving birth to my first child in 1963..the poem "On Children."
Posted 01/23/2021 06:33 PM
Anastasia:
Wonderful and wise words. Thank you, Jayne!
Posted 01/23/2021 04:26 PM
Janet Leahy:
Gibran always seems to use his words to make us think and to give us hope, and a reason to continue, great choice for the time we live in.
Posted 01/23/2021 03:54 PM
CamilleBalla:
Thank you, thank you! A great poem to ponder now and to come back to later.
Posted 01/23/2021 11:58 AM
Jancan:
What a wonderful choice for the day--moving, uplifting, wonderfully symbolic!
Posted 01/23/2021 09:32 AM
Kay N. Sanders:
This is moving. It captured me and held me. Immediately before reading this, I listened to a recording of Alice Walker reading her poem, "Hope Is a Woman Who Has Lost Her Fear."
Posted 01/23/2021 08:27 AM
Larry Schug:
I've loved Gibran for a long time. The Prophet was popular reading back in the hippie days. His words, "You are a child of the universe" have long stuck with me. Thank you, Jayne.
Posted 01/23/2021 07:09 AM