Itís January
boots in school hall.
I pull an apple
from my bag.

I see our tree
obscured by blossoms in spring
courting pollinators.
During summer visits
thistles pierce bare feet.
In August I examine hard green balls,
festoon my pants with burrs.
Leaves fall, first snow
frosts each gold orb.

We fill bushels,
leave the rest for deer.
They come at night
stretch high like dancers
eat warm sun
buried deep within
cold fruit.


From Caught Between Coasts: Collected Poems 1989-2018 (Clover Valley Press, 2018).
Used with permission.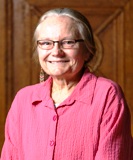 Jan Chronister, a retired teacher of English and Creative Writing, lives in the woods near Maple, Wisconsin. The author of three chapbooks and two full-length poetry collections, she is serving as president of the Wisconsin Fellowship of Poets from 2015-2021. Learn more about Jan at www.janchronisterpoetry.wordpress.com.
Lori Levy:
Beautiful images, especially last stanza.
Posted 01/27/2021 10:18 PM
TheSilverOne:
Beautiful poem, Jan! ~ Doris Bezio
Posted 01/27/2021 03:09 PM
Wilda Morris:
I especially like the last stanza, too.
Posted 01/27/2021 01:21 PM
KinVT:
Excellent example of fairly sparse words communicating very full images. I really enjoyed visually (in my mind's eye) traveling through the seasons via your apple/tree; a much welcomed "trip" on this cold & snowy January day.
Posted 01/27/2021 01:19 PM
juneinca@aol.com:
Wonderful poem. Our deer only leave the apples they can't reach, and the birds take care of those!
Posted 01/27/2021 01:01 PM
Anastasia:
What a wonderful set of images!
Posted 01/27/2021 12:56 PM
Jean Colonomos-1:
I love the resonance of the last stanza.
Posted 01/27/2021 10:05 AM
Sharon Waller Knutson:
This sensuous picturesque poem is delightful and delicious. I can see the speaker plucking an apple from her boot and imagining the tree, green balls, snow, the deer stretching high like dancers, feel the thistles pierce bare feet, and taste the sun in the cold fruit.
Posted 01/27/2021 09:44 AM
Larry Schug:
Without a doubt, one of the muses inhabits apple trees. Apples-the fruit of poetry.
Posted 01/27/2021 07:13 AM