"Why not do a jigsaw?"
Some good old-fashioned fun
The virus keeps us locked indoors
Let's pick a cheerful one.

They're stored inside the wardrobe
A mix of large and small
Most, one thousand pieces
With pictures to enthrall.

We'll choose a warm nostalgic one
Of times in childhood days
When life was less restraining
No talk of world malaise.

The puzzle duly chosen
The table-top laid bare
Out spill the thousand pieces
It's time to sit and stare.

The puzzle will be challenging
Of that we can foretell
But as with others done before
Rewards will come as well.

The sort and sift gets started
Important to be done
The interlocking lockdown
Has seriously begun.


© by Nick Balmforth.
Used with the authorís permission.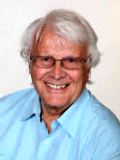 Nick Balmforth is a retired safety inspector of children's indoor play centres. His primary published work has been in the field of safety standardization for the British and European indoor play industry and he was awarded an MBE (Member of the Most Excellent Order of the British Empire) for his work in 2012. Nick is also a successful voice-over artist and, in addition to poetry, enjoys jazz. He lives in Staffordshire, England.
Wilda Morris:
Love it! Excellent rhymes.
Posted 01/31/2021 12:30 PM
Jancan:
I love everything about this poem!
Posted 01/30/2021 09:38 AM
paradea:
Fun poem!!!
Posted 01/29/2021 09:37 PM
Anastasia:
My grandmother would set up a card table for us to do puzzles, because with five to eight grandchildren all "helping" at the same time, progress was not quick or steady!
Posted 01/29/2021 04:07 PM
Lori Levy:
This makes me think of the pictures my friend posts on Facebook of the puzzles she's been doing during the pandemic.
Posted 01/29/2021 04:05 PM
Janet Leahy:
Great title for your poem, it reads well with the rhythm and rhyme, Thanks Nick.
Posted 01/29/2021 01:34 PM
Darrell Arnold:
If you can't laugh at the current wreck this country is in, you may not survive it. Thanks Nick for a well-metered, well-rhymed chuckle.
Posted 01/29/2021 11:15 AM
CamilleBalla:
The interlocking lockdown Has seriously begun. Clever, and the rhythm of the rhyming calls us in...
Posted 01/29/2021 10:40 AM
Corgicottage:
What fun!
Posted 01/29/2021 10:04 AM
njc:
So true--I can identify with all of it! With no possibility of dinner guests we've dedicated half of our table to puzzling. "Let's pick a cheerful one" -- I agree, we're leaving the Passengers Boarding the Titanic in the closet for now.
Posted 01/29/2021 09:43 AM
cork:
Our kitchen table was recently cleared of the great snowy owl by Robert Bateman.
Posted 01/29/2021 09:29 AM
michael escoubas:
What a clever poem, Nick. Like the subject you write about, all the pieces fit together for a satisfying finished product.
Posted 01/29/2021 09:03 AM
Larry Schug:
And the cats will have great fun knocking puzzle pieces to the floor, hiding them, re-sorting them and causing general mayhem! Let's get started. Oh, by the way, fun poem.
Posted 01/29/2021 06:52 AM