Shopping during the coronavirus
I spend less time on greetings of the day
except with the cashier and the bagger,
on some days with the butcher

or the lady in the deli—not being
quite sure of 'who's who' behind each mask.
Less distracted, more on task
I move my way through the aisles

realizing we are more alike than unlike,
most of our uniqueness revealed
not by what we wear or the way we walk,
how tall or short or even by our hair

But, oh, to meet those smiling eyes—
Yes, it's a good day, my eyes smile back,
my day brighter, my steps bouncy
as I push my cart toward the parking lot.


© by Camille A. Balla.
Used with the author's permission.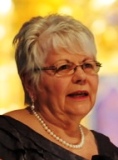 Camille A. Balla lives in suburban Chicago. The author of Simple Awakenings, a chapbook that spans the seasons of the year, her award-winning poetry has appeared in local and national publications as well as on the Internet and in greeting cards and gift items. Camille—a mother, grandmother, and great-grandmother—is a lifelong learner whose interest in spirituality and personal growth inspires her poetry. Other interests include digital photography, dancing, trying out new recipes, and collecting and sharing inspirational quotes.
Jancan:
Timely, descriptive piece about how our eyes smile! :-)
Posted 02/01/2021 05:16 PM
TheSilverOne:
The difference of a smile, even seen through the eyes. Enjoyed this poem. ~Doris Bezio
Posted 02/01/2021 02:11 PM
Kay N. Sanders:
Yes, the eyes have it!
Posted 02/01/2021 07:15 AM
ladybug:
So true, Camille. It's in the eyes that we know one another. Susan Moss
Posted 01/31/2021 05:28 PM
Mama Goose:
Very nice, Camille. A new kind of day, a new appreciation of what it takes to make a good day.
Posted 01/31/2021 04:59 PM
michael escoubas:
Unique take Camille and a much needed one I might add. Thank you.
Posted 01/31/2021 12:40 PM
Wilda Morris:
Thanks for sharing this optimistic view of being masked! Love it!
Posted 01/31/2021 12:27 PM
KathySWrites:
Speaking as one of the cashiers--this rings so true. I love seeing smiling eyes above the masks. My job keeps me sane, and this poem strikes to the heart of why. Wonderful!
Posted 01/31/2021 11:50 AM
Jo:
I really love this poem and find that eyes are it--they convey a good day, a love for our fellow-man--our connectors. Thank you, Camille.
Posted 01/31/2021 10:43 AM
Jean Colonomos-1:
I so share the moments with you. It's like we're stripped down to the essentials and you capture that in your lovely poem.
Posted 01/31/2021 10:06 AM
Charly:
It's me, Merle . Charly is my nickname
Posted 01/31/2021 08:44 AM
Charly:
Hi Cami, Loved your poem. I share your adventures while shopping and am so glad you put them into poetry. You know well that the eyes are the mirror of the soul. Thank you my friend:
Posted 01/31/2021 08:43 AM
Larry Schug:
If there is one good thing to come of all this it's looking in people's eyes. They are indeed lit by an internal light. "Smiling eyes" is not a metaphor.
Posted 01/31/2021 06:58 AM
A Jenkin:
It's a very realistic piece Camilla, I couldn't agree more, smiling eyes make all of the difference to our day..
Posted 01/31/2021 06:23 AM