What
love
can
I
give

but
to
be
kind
and
generous

to
everyone
I
meet

teaches
my
sweet
dog
Miley

with
a
lick
on
the
cheek.


© by Danny P. Barbare.
Used with the author's permission.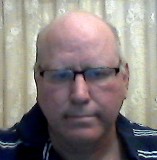 Danny P. Barbare's award-winning work has been published in numerous online and print journals. Author of three books, he attended Greenville Technical College. Danny lives with his wife, family, and sweet dog Miley in Greenville, South Carolina, where he draws inspiration from the Blue Ridge mountains and from the lowlands of Charleston.



Anastasia:
Aw! What a sweet dog!
Posted 02/10/2021 01:10 PM
Jancan:
Oh, yes, that unconditional love! Well said
Posted 02/07/2021 07:05 PM
carlpalmer:
sweet
Posted 02/07/2021 12:16 PM
wayne.goodling@yahoo.com:
Thank you for this poem.
Posted 02/07/2021 10:59 AM
Larry Schug:
Good dog, Miley! Have an extra dog treat on me.
Posted 02/07/2021 07:04 AM