If love is every snowflake of winter,
if love is a satellite circling the Earth
at seventeen thousand miles an hour, if love

is all the years since the dinosaurs died,
you can be sure it will wrap you forever
in eider down. Such love will bring you

flowers so fragrant the scent will suffuse
you with joy. It will dance you through
a curtain of fireworks, it will hold your hands

until your bones turn to rock, such love
will break through chains and climb

the tallest tower and roar and roar and
that might wake you from your sleep
tonight, and I'm sorry about that but

I thought perhaps you might not mind,
this one time. †


© by Tom Barlow.
Used with the authorís permission.
†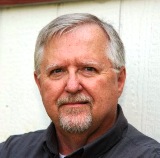 Tom Barlow is a writer of poetry, short stories, and novels. A resident of Columbus, Ohio, his work has appeared in a variety of anthologies and journals. Tom claims his attention deficit disorder keeps his pen "whirling like a merry-go-round" with poems like these being flung off as he desperately tries to "convince the carny to bring the ride to a halt." Learn more about Tom at tombarlowauthor.com.
Wilda Morris:
Excellent!
Posted 02/12/2021 04:12 PM
Lori Levy:
Unique images.
Posted 02/09/2021 04:09 PM
paradea:
Like it!!!
Posted 02/09/2021 03:29 PM
Anastasia:
With such a love, how could one mind? What a fabulous set of images! Thank you, Tom!
Posted 02/09/2021 03:06 PM
Jo:
Very enjoyable Tom—such wonderful images.
Posted 02/09/2021 10:57 AM
michael escoubas:
I didn't mind at all, Tom . . . "this one time." Congratulations on an energetic and image-packed poem.
Posted 02/09/2021 09:18 AM
cork:
What women were prisoners in the tallest towers?
Posted 02/09/2021 09:11 AM
Sharon Waller Knutson:
I loved this powerful picturesque poem and all of the unique images.
Posted 02/09/2021 07:57 AM
wayne.goodling@yahoo.com:
Good poem!
Posted 02/09/2021 06:41 AM
paula:
A fresh voice, a lovely poem
Posted 02/09/2021 05:35 AM