Seen from the kitchen window,
the snow covering part
of the driveway looks intriguing.
An artist can create
something out of it—
 
a painting, a photograph
taken at a new angle—
even a symphony carrying
some distant echoes of Vivaldi.
 
Seen from the kitchen window
at six a.m. on a Saturday morning,
the thin layer of snow looks
like an intricate lace scarf
 
an absent-minded
elderly woman dropped
on her way to some place
where she won't be
needing it anymore.
 
A place where she could
observe the painting, the photograph
in the warm comfort
of a local museum,
 
or listen to the symphony,
protected by the shade
of the fronds of gigantic
palm trees reaching higher
and higher towards a cloudless,
deep blue sky.

© by Nydia Rojas.
Used with the author's permission.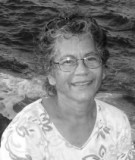 Nydia Rojas divides her time between writing poetry and working in her garden. "Somehow," she says, "each activity inspires the other, and each season I look forward to lots of beautiful blossoms  and new topics on which to base my poems." Nydia is the author of one chapbook, Stealing Daylight, and lives in Middleton, Wisconsin.
Tracers645:
I love to see a thin layer of snow on Saturday morning before anyone has walked on it. Brings warm, happy memories.
Posted 02/22/2021 08:22 PM
Anastasia:
So wonderfully descriptive and evocative! I wish I, too, were "in the warm comfort of a local museum"!
Posted 02/20/2021 05:45 PM
Lori Levy:
Beautiful, imaginative poem.
Posted 02/20/2021 02:14 PM
Sharon Waller Knutson:
Love this scenic poem with its metaphors of snow on the driveway resembling a painting, photograph, Vivaldi symphony, an intricate lace scarf dropped by an elderly woman.
Posted 02/20/2021 01:33 PM
Ron Stewart:
What a great imaginary image Nydia. I love it!
Posted 02/20/2021 09:59 AM
KevinArnold:
I'm taken with Nydia's selection of "can" rather than "could" in the fourth line. The "can" really opens the poem up, putting the reader in the middle of the action. Well done! Truly a poem from Middleton, the middle of all things. Brava!
Posted 02/20/2021 09:50 AM
cork:
I am going to look at my driveway now. She dropped her white scarf here.
Posted 02/20/2021 08:59 AM
Larry Schug:
Oh Imagination!
Posted 02/20/2021 07:09 AM