There's a heap o' satisfaction in a chunk o' pumpkin pie,
An' I'm always glad I'm livin' when the cake is passin' by;
An' I guess at every meal-time I'm as happy as can be,
For I like whatever dishes Mother gets for Bud an' me;
But there's just one bit of eatin' which I hold supremely great,
An' that's good old bread and gravy when I've finished up my plate.

I've eaten fancy dishes an' my mouth has watered, too;
I've been at banquet tables an' I've run the good things through;
I've had sea food up in Boston, I've had pompano down South,
For most everything that's edible I've put into my mouth;
But the finest treat I know of, now I publicly relate,
Is a chunk of bread and gravy when I've finished up my plate.

Now the epicures may snicker and the hotel chefs may smile,
But when it comes to eating I don't hunger much for style;
For an empty man wants fillin' an' you can't do that with things
Like breast o' guinea under glass, or curried turkey wings--
You want just plain home cookin' an' the chance to sit an' wait
For a piece o' bread an' gravy when you've finished up your plate.

Oh, it may be I am common an' my tastes not much refined,
But the meals which suit my fancy are the good old-fashioned kind,
With the food right on the table an' the hungry kids about
An' the mother an' the father handing all the good things out,
An' the knowledge in their presence that I needn't fear to state,
That I'd like some bread an' gravy when I've finished up my plate.
 This poem is in the public domain.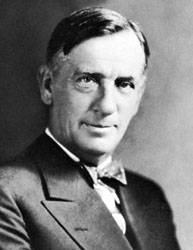 Edgar Guest (1881 - 1959) was born in England, but moved with his family to Detroit, Michigan, when he was ten years old. He worked for more than sixty years at the Detroit Free Press, publishing his first poem at the age of seventeen, then going on to become a reporter and columnist whose work was featured in hundreds of newspapers around the country. Edgar is said to have written some 11,000 poems during his lifetime, most of it sentimental, short, upbeat verse. Critics often derided his work, but America adored him. He was known as the "People's Poet," served as Michigan's poet laureate, hosted a long-running radio show and TV show, and published more than twenty books.
KevinArnold:
Ah, after centuries of touting royalty, the newfound interest in the common man: Oh, it may be I am common an' my tastes not much refined,
Posted 07/13/2021 09:23 AM
Anastasia:
*checks take-out menus for places with bread and gravy* I'm hungry now!
Posted 02/23/2021 09:20 PM
MLove:
Oh yes. I list biscuits and gravy as my favorite all time food hands down!
Posted 02/22/2021 11:57 AM
CamilleBalla:
This shows why Edgar Guest, who is new to me, was considered the Peoples Poet. I didnt start reading poetry until after I had written a few. Im one of those who thought poetry as boring.
Posted 02/22/2021 10:51 AM
Darrell Arnold:
Soap-box time. The bio says, "Critics often derided his work." Those were probably sourpusses who didn't enjoy humor or cleverness, or else they were too unskilled or, more likely, too lazy to put in the work required to give a poem rhyme and meter. Read the old masters. They didn't have television or electronic social media. Those poets worked at their craft. They discarded whatever didn't work and polished up and presented what did work. Wonderful stuff.
Posted 02/22/2021 10:33 AM
RonPoems:
Fun, relatable poem. In Italy, Guest would be making a scarpetto (literally small shoe) by wiping his plate with a piece of bread. Its considered a compliment to the cook.
Posted 02/22/2021 09:48 AM
michael escoubas:
Oh yeah!! This speaks to me . . . I'm still a bread an' gravy guy. Thank you Jayne, and thank you Edgar Guest!
Posted 02/22/2021 08:59 AM
cork:
I grew up in Detroit reading Edgar. He is my hero. I love bread and gravy.
Posted 02/22/2021 08:58 AM
Larry Schug:
This is a jewel, Jayne. I wonder what Guest be writing were he around in 2021.
Posted 02/22/2021 07:40 AM