I live each day as long as the battery
In my iPhone lasts
Then
The requiescat prayers
On the rechargers altar
Brings to pass
The miracle of redemption
100%
But for how long?
How long before the update?
How long before the new version,
The vision of the virgin app?
My life
is in its calendar
My commune with the unknown
Is in text
My scriptures are quoted in email
My thoughts expressed in Reddit
My vision fades in Snapchat
My laughter invested in Instagram
And
My love is as Tender as the night
My language codes
In Ones and Ohís
And ohís and ohís and Mmmmís
What Iíve learned is
That God never reads email
So, donít expect an answer
But there is an app for $2.99 a month

© by David Walker.
Used here with the authorís permission.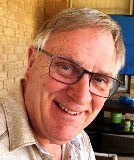 David Walker is a semi-retired broadcast journalist and radio station owner. Now a disabled veteran, he gave up a journalism scholarship to volunteer for service in the army in 1972, right out of high school. David says he has written poetry all of his life, but rarely ever shared it with anyone because "West Texas farm boys play football, we hunt, some join the army, but none of us write poetry... except me." Currently, he is working on an MFA at Texas Tech University where he earned his undergraduate degree in Journalism after leaving the army. David has been married for almost 50 years "to the love of my life;" he and his wife live in Lubbock, Texas and have four children and seven grandchildren scattered across the country.
netac:
That gave me a chuckle!
Posted 03/05/2021 08:49 PM
Lori Levy:
Love the humor in this poem.
Posted 03/05/2021 08:10 PM
MLove:
How long before the new version, The vision of the virgin app? Great use of V's!!
Posted 03/05/2021 04:15 PM
Anastasia:
There's an app for everything! Thank you for this fun poem!
Posted 03/05/2021 01:29 PM
Sharon Waller Knutson:
Humorous and clever poem by a fellow journalist/poet. I'm not a high techy but I recognize good writing when I see it.
Posted 03/05/2021 09:47 AM
cork:
Yesterday my cell phone quit with a long musical announcement.
Posted 03/05/2021 09:11 AM
Ron Stewart:
Well Done David! As a football player and engineering student it was totally unexpected that I could/would write poetry. But it has been my passion for as long as I can remember.
Posted 03/05/2021 08:53 AM
Nicholas:
Haha; "God doesn't read e-mail". Nice :)
Posted 03/05/2021 06:03 AM