when saying "Good Morning"
feels, deep down, like a nasty lie;

when I avoid the weather channel
to control my blood pressure;

when only exotic travel brochures
can lift the pervading gloom;

when I've broken the handles
of two snow shovels by mid-February;

when I have to scrape the March frost
from my windshield with my credit card;

when Spring's first crow caws once,
then wings off, heading due south;

when the mere thought of sandals
turns me weepy with nostalgia.


© by Glen Sorestad.
Used with the author's permission.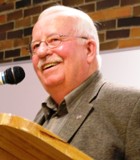 Glen Sorestad is a Canadian poet, fiction writer, editor, publisher, anthologist, and public speaker. Author of more than twenty books of poetry and numerous short stories, his work has appeared in more than sixty anthologies and textbooks. Most recently, Glen's book, Selected Poems from Dancing Birches, was published in Italy in a bilingual edition. Glen served from 2000-2004 as Saskatchewan's first Poet Laureate and has given public readings of his poetry in every province of Canada, as well as in the U.S. and many parts of Europe. He lives in Saskatoon with his wife, Sonia, who he claims is his "first and most enthusiastic reader and editor." Learn more about Glen here.

Anastasia:
A wonderfully humorous bit of encouragement! Thank you, Glen!
Posted 03/11/2021 01:52 PM
Stephen Anderson:
I loved this humor-filled poem, Glen! Lets form a group for winter survivors!
Posted 03/08/2021 05:53 PM
KateTompkins:
Should have guessed it was by a fellow Canadian by the topic. Made me smile.
Posted 03/08/2021 08:06 AM
Lori Levy:
Great poem!
Posted 03/07/2021 07:13 PM
Janet Leahy:
"When good morning seems like a nasty lie," and the other nasty lies, I'm doing fine, this too will pass, It will make us stronger, and the biggest nasty lie of all, zoom works really well . . . Thanks Glen for this delightful poem.
Posted 03/07/2021 09:42 AM
cork:
I watched a red fox diving into snow this morning.
Posted 03/07/2021 09:25 AM
mail@schoolbusmart.com:
Nice, fun poem. Brought a smile to my face. Randy
Posted 03/07/2021 08:33 AM
michael escoubas:
Still laughing here in Central Illinois, Glen, where the winters are "brutle!"
Posted 03/07/2021 08:31 AM