I need brown . . .
the nut brown of summer,
saturated beach sand shaping to my feet,
moist garden soil finger-patted smooth.

I need brown . . .
the thrush, the catbird chatter of a busy wren,
fuchsia flowers popping from my dark brown urn,
a weathered garden bench.

Enough of winter whiteness,
enough of blinding snow.
Let me rest my eyes on the robinís nest,
found twigs knit together to make a home.


© by Kathleen Serley.
Used with the authorís permission.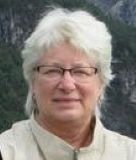 Kathleen Serley appreciates the way retirement has opened her days to poetry: the poetry of gardening and grandchildren, of long walks and childhood memories, and the joy of setting it all down in verse. She is a lifelong Wisconsin resident and serves as Mid-Central VP for Wisconsin Fellowship of Poets.
†
Jo:
I so enjoy poems on colors. You have opened my eyes to brownI didnt realize how much I liked it. :)
Posted 03/11/2021 06:41 PM
Janet Leahy:
A fresh look at the color brown after our fill of white this past winter, I like the richness of brown in the farmer's fields. Thanks Kathleen.
Posted 03/11/2021 03:42 PM
Lori Levy:
I agree with everything the others said about what you did with brown. Unique approach.
Posted 03/11/2021 03:04 PM
Anastasia:
Brown is under-appreciated as a life-enhancing color. Thank you for this poem, Kathleen!
Posted 03/11/2021 01:51 PM
Larry Schug:
Beautiful, beautiful brown in all it's shades and variety is a very over-looked and under-appreciated color. It's one of my favorites. Wonderful poem, expressive and well-written.
Posted 03/11/2021 12:01 PM
CamilleBalla:
Brown, but so well crafted. Garden soil finger-patted smooth. Fuschia flowers popping...oh, yes! Thank you showing me to look at brown in a new way.
Posted 03/11/2021 11:31 AM
wordartdjc:
A new slant on the color...Yes, this poem makes me 'Think Spring' and don't we all need that!
Posted 03/11/2021 10:38 AM
Mariah:
I've always disliked brown. Now I will look at it a new way. Great job, Kathleen!
Posted 03/11/2021 10:04 AM
michael escoubas:
One of the few poems I've encountered dedicated solely to "brown." Quite original . . . the best poems derive from the planet's rich earth. Well done, Kathleen!
Posted 03/11/2021 09:56 AM
KevinArnold:
Oh, no, Kathleen makes me re-examine my least-favorite color. Fun!
Posted 03/11/2021 09:20 AM
katmaz:
You found joy in the brown in nature and its lovely!
Posted 03/11/2021 09:15 AM
cork:
You give life to the color brown.
Posted 03/11/2021 09:14 AM
mjorlock:
Well done, Kathleen. This is a beautifully crafted little poem.
Posted 03/11/2021 07:44 AM
bobbi43sml@aol.com:
The saturated beach sand shaping to my feet......cannot happen soon enough. This makes my heart sing
Posted 03/11/2021 07:32 AM