Little frogs are hopping
from the pond to the weeds,
hopping in the headlight beams
across wet asphalt through strings of drizzle,
hopping where my car can only squash them
so I stop.

You take my hand.
"Thank you," you say.
You like frogs.
There is another route, an extra mile.
I back up, turn around.
"More cars will come," I say.
Again you take my hand.
"That's on them," you say.
We do what we can do.

And maybe, just maybe,
we spared a prince.


© by Joe Cottonwood.
Used here with the author's permission.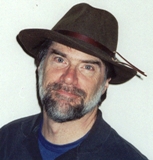 Joe Cottonwood is a semi-retired contractor with a lifetime of small jobs repairing homes. He lives with his high school sweetheart under redwoods in the Santa Cruz Mountains of California, caring for curly-haired dogs and straight-haired grandchildren. Joe's latest book is Random Saints. Learn more about him at www.joecottonwood.com.
Wilda Morris:
Great surprise ending. And yes, we need to care for all the little creatures - and one another.
Posted 03/24/2021 06:17 PM
Tracers645:
Love it! I stop for little frogs, too. :-)
Posted 03/22/2021 04:53 PM
Jancan:
Lively, decriptive poem--saved a prince, I like that.
Posted 03/22/2021 01:14 PM
jamvan:
How lovely!
Posted 03/22/2021 12:54 AM
Anastasia:
It takes very little effort to be kind. Thank you for caring about the frogs!
Posted 03/21/2021 01:32 AM
Lori Levy:
So much love in a poem about frogs.
Posted 03/21/2021 12:21 AM
BAMars:
You never know, do you? Kindness is always a good idea. Thank you, Joe.
Posted 03/20/2021 01:59 PM
CamilleBalla:
You take my hand. I like the tenderness of we...
Posted 03/20/2021 01:42 PM
peninsulapoet:
Joe Cottonwood's poems are always a pleasure.
Posted 03/20/2021 12:14 PM
Stephen Anderson:
Yes, we can, Joe! Thanks so much for this reminder poem.
Posted 03/20/2021 10:48 AM
Ron Stewart:
I like it Joe. I especially like the last line about possibly saving a prince.
Posted 03/20/2021 10:42 AM
KevinArnold:
Wonderful. This poem speaks to me at so many levels. Despite logic, we must do all we can.
Posted 03/20/2021 10:21 AM
DavidTookey:
This poem made me feel better this morning. Thanks Joe!
Posted 03/20/2021 09:40 AM
cork:
Emily Dickinson wrote about frogs off the highways.
Posted 03/20/2021 09:38 AM
Darrell Arnold:
I experienced the same kind of thing during a modest rainstorm on the plains of North Texas. But they were hundreds of thousands of migrating toads crossing the highway, for more than a mile, and there was no way around them. Very sad. In that part of the world (NW Texas, western Oklahoma, SW Colorado, and NW New Mexico), there are also tarantula migrations that cross some highways. God's critters doing what they've always done since way back before highways were built. I never thought about writing poetry about those things.
Posted 03/20/2021 09:29 AM
Sharon Waller Knutson:
This poem hops right into my heart and proves why Joe Cottonwood is the prince of poets. It's smart, funny and a breath of fresh air.
Posted 03/20/2021 08:50 AM
michael escoubas:
Unique take, Joe! As with frogs, so in life. Thank you.
Posted 03/20/2021 08:27 AM
Larry Schug:
Let's all brake for critters. The last two lines make this poem a notch above.
Posted 03/20/2021 07:18 AM