You tap me on my shoulder, my head.
My feet feel your pitter, patter,
your pounding strength—
a March rain, a thunderstorm anointment.
You grace spring with warmth and power
to let us know, to convince us
that you have taken the reins,
that winter needs hide and cover,
that bluster is not the charge anymore,
that green wins over white,
that the umbrella is the tool of choice,
not the shovel.


Š by Marilyn Zelke Windau.
Used with the author's permission.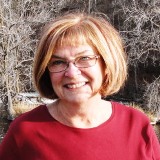 Marilyn Zelke Windau started writing poems at age thirteen, sitting in a quiet bathtub with a pillow, pen, and notepad. A retired elementary school art teacher, she finds visual observation to be of great value to the word arts and her poems tell stories of caught moments in nature and people's lives. Author of four books of poetry, Marilyn lives in Sheboygan Falls, Wisconsin with her husband and golden retriever.

tiddles:
Thank you all for your kind comments and thank you, Jayne, for publishing my poem. MZWindau
Posted 03/24/2021 08:14 AM
Lori Levy:
Beautiful image of the spring rain.
Posted 03/23/2021 06:50 PM
Tracers645:
Beautiful poem!
Posted 03/23/2021 11:46 AM
Maryann Hurtt:
I can feel the rain, taste the hope of spring in your poem. Thank you, Marilyn!
Posted 03/23/2021 11:19 AM
Jo:
My favorite line: the umbrella is the tool of choice, not the shovel.] Well done, Marilyn.
Posted 03/23/2021 10:58 AM
mjorlock:
Terrific economy and control of language, masterfully done!
Posted 03/23/2021 09:17 AM
Sharon Waller Knutson:
I love how this poem begins with a pitter patter, ends with winter needs hide and cover, that bluster is not the charge anymore, that green wins over white, that the umbrella is the tool of choice, not the shovel.
Posted 03/23/2021 09:13 AM
cork:
I love the movement in this poem!
Posted 03/23/2021 09:08 AM
aachacoso:
'Hope springs eternal'
Posted 03/23/2021 07:58 AM
paula:
Good to hear your voice!
Posted 03/23/2021 05:15 AM