The piano tuner admired the aged ivory of the keys,
the chips off the edges of a few keys
he compared to a grade school smiling for a class photo.
He ran both hands over the oiled tiger-striped oak
stripped and finished by my wifeís grandmother.

Like many old things, he said, the exterior
is in good condition, but the hammers get old,
dry, crack, and the wires, some go taut,
pulled up like a tendon in your ankles
and lose flexibility, some wires
to the low notes go slack, unwinding,
memory loss, muffled, like an old manís voice
or the sound of a loved one who was lost.

I would not repair it, he said.
It has too much value as is.


© by Jeff Burt.
Used with the author's permission.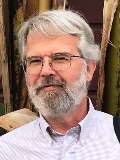 Jeff Burt lives in Central California with his wife and a young Labrador he claims is half plow-horse. Jeff says his body clock has the routine of a farmer: rise early, work early, lunch early, and a rapid dissipation of energy around ten at nightómeaning he knows more about dawn than he probably should, and less about the stolen pleasures of staying up late than he ought to. Learn more about Jeff at http://www.jeff-burt.com.
†
†
LindaCrosfield:
I have my grandmothers piano. She brought it over from England in 1911. Its black and has two brass candlesticks and nobody plays it anymore although only last week I sat at it and played the little bit I remember. My son would like it but theres no room at his house. It could use a good tuning and mice have eaten some of the felts but I love it fiercely and its going nowhere. This poem is about all that. Its beautiful, and tuned perfectly.
Posted 03/30/2021 03:19 AM
Lori Levy:
Beautiful.
Posted 03/29/2021 09:01 PM
Tracers645:
Beautiful poem. 🙂
Posted 03/29/2021 04:11 PM
Sharon Waller Knutson:
Loved the photographic images that I can see, feel and hear: grade school smiling for a class photo, tiger striped oak, tendon in your ankles, old man's voice.
Posted 03/29/2021 12:28 PM
joecot:
Absolutely marvelous poem which has set me on a lengthy path of thought which leads to this: Shouldn't we ask the piano whether it wants to be repaired, and then abide by its wishes?
Posted 03/29/2021 11:38 AM
paradea:
Beautiful!
Posted 03/29/2021 10:29 AM
michael escoubas:
I love to think about old things . . . the joys thet brought and the joys they bring. Thank you Jeff, for this memborable "look back." Nice job of personifying certain traits of the piano, too. This is why poets and poetry should be national treasures.
Posted 03/29/2021 10:02 AM
Darrell Arnold:
My wife hasn't wanted to purchase a player piano for several years. It was offered to us, sight unseen, for $800 about ten years ago. She wanted it, and we couldn't afford it. Last fall, it was offered to us for $100. What could we do but say yes to the deal? We learned it had been in storage for more than 60 years. It is a Pianola Piano, built in Wheelock, NY, about 1906. The seller threw in 100 piano rolls with it. We quickly hunted for a piano tuner to get it in shape before we started playing it. The only one within a thousand miles had just retired. We decided to play it, anyway. You pump it with foot pedals. It sounds tinny and honky tonky, just like it was designed to sound, and it is still in tune. It is our center attraction when we have guests, and we gather around it and sing old-time songs. What a treasure it is!
Posted 03/29/2021 09:28 AM
cork:
I did not realize how beautiful our old is.
Posted 03/29/2021 09:02 AM
pwax:
Beautiful! Brought a tear to my eye.
Posted 03/29/2021 08:32 AM
KateTompkins:
Love it, though, unlike the piano, my exterior isn't in as good a condition as I would like.
Posted 03/29/2021 08:28 AM
Larry Schug:
Metaphor--As we are.
Posted 03/29/2021 06:31 AM