Thatís what we call him,
our yearling bull, joking
it would be a good name for a pub.
Every afternoon we hear him
making sounds no bull should
ever make, the moment he sees
your pickup pull into the driveway
and park outside the barn. He watches
from his pasture as you duck into
the shadowed doorway empty-handed.
He paces the fence and screams for you
until you emerge again, carrying
a plastic bucket full of grain.
Heís partial to molasses sweet feed.
Heís hefty for his age.
†††††††††††††††††††††††††††††††††††† And once
youíre standing by his trough,
shaking that bucket, calling his name,
heíll break into a screaming gallop,
this black angus freight train
of a youngster who lives to see you
coming home each afternoon,
to eat sweet feed in late day sun
or freezing rain while you scratch
behind his dirty, hairy ears.
Youíre not like meóyou wouldnít
turn and run. Youíre not afraid
of being trampled, of that one day
he might not put on the brakes in time.
But Iíll never wait beside his trough
with a bucket in my hand, calling.
Iím partial to my unbroken bones.
Iím gimpy in both knees.
†††††††††††††††††††††††††††††††††††† And one
of us screaming is enough.


© by Susan Rooke.
Used here with the authorís permission.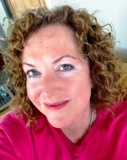 Susan Rooke and her husband live surrounded by pampered black cows, two grumpy donkeys, and amazing birdlife in the countryside of Central Texas. Susan writes fiction as well as poetry, and is the author of the first two books in a fantasy series, The Space Between and The Realm Below. Periodically she blogs about real life, food, and cocktails at http://susanrooke.net.
†
†
†
†
Wilda Morris:
Fun and interesting poem.
Posted 04/10/2021 08:49 PM
srooke777@gmail.com:
Thank you so much, everybody! I appreciate your kind words!
Posted 04/09/2021 05:36 PM
paradea:
I love this poem! Fantastic!!!
Posted 04/09/2021 05:32 PM
Lori Levy:
Great! I can see and hear that bull.
Posted 04/09/2021 05:16 PM
Sharon Waller Knutson:
Loved this poem from the title "The Screaming Bull" until the last line. I laughed at The Screaming Bull being a good name for a pub. But most of all I relate because we have more than one screaming bulls in our front yard and I am terrified of all of those ton of muscles with horns and I would never feed them or go near them because they would run over me like a freight train and I agree one of us screaming is enough.
Posted 04/09/2021 01:05 PM
Janet Leahy:
Love the way this story unfolds, it is so clear, I can see and feel the excitement of animal and human. Wonderful action words, "screaming gallop" and "black angus freight train" this is fun to read. Fantastic ending, I too am partial to unbroken bones.
Posted 04/09/2021 12:50 PM
RonPoems:
Wonderful story and surprise.
Posted 04/09/2021 10:46 AM
michael escoubas:
We had bulls in the pasturres of several farm homes in Central Illinois . . . great fun . . . these creatures MUST be respected!! Fine poem, Susasn.
Posted 04/09/2021 09:23 AM
Larry Schug:
There is context in the animal world and there is communication between species with seemingly nothing in common, but in reality with everything in common including life. I love the way this poem unrolls, like turning pages in a book. It brings to mind a Black Angus bull who lived on a farm where I once worked. His name was Boxcar.
Posted 04/09/2021 08:34 AM
wordartdjc:
Quite unusual for a pet poem and that makes for extra interest. I enjoyed reading this and salute the author.
Posted 04/09/2021 07:51 AM