And then a scholar said, Speak of Talking.
     And he answered, saying:
     You talk when you cease to be at peace with your thoughts;
     And when you can no longer dwell in the solitude of your heart
you live in your lips, and sound is a diversion and a pastime.
     And in much of your talking, thinking is half murdered.
     For thought is a bird of space, that in a cage of words may
indeed unfold its wings but cannot fly.
     
    There are those among you who seek the talkative through fear of being alone.
     The silence of aloneness reveals to their eyes their naked selves and they would escape.
     And there are those who talk, and without knowledge or
forethought reveal a truth which they themselves do not understand.
     And there are those who have the truth within them, but they tell it not in words.
     In the bosom of such as these the spirit dwells in rhythmic silence.
 
     When you meet your friend on the roadside or in the market place,
let the spirit in you move your lips and direct your tongue.
     Let the voice within your voice speak to the ear or his ear;
     For his soul will keep the truth of your heart as the taste of the wine is remembered
     When the colour is forgotten and the vessel is no more.  

This poem is in the public domain.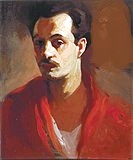 Kahlil Gibran (1883 - 1931), best known for his book, The Prophet, was born in Lebanon to an impoverished family. He moved with his mother and siblings to Boston at the age of 12, but returned to Lebanon three years later to attend college. He was studying art in Paris when a family death brought him back to Boston. Gibran ultimately settled in New York, where he gained recognition for his poems and short stories as well as for his drawings and paintings. Published in both English and Arabic, Gibran claimed that the Bible had the greatest influence on his writing. (He was a Catholic.) He also greatly admired the work of William Blake, Walt Whitman, and Syrian writer Francis Marrash.
wordartdjc:
Admiration for Gibran is consummate with my being for his introspective and clear thought and how he expressed it. Thank you for this reminder of our own thought process and our speech.
Posted 04/20/2021 11:42 AM
MLove:
I, too, was a fan of Desiderata. I thought Kahlil Gibran was a poet in the 70's. Had no idea he was from my grandparents' generation. Plus, he died so young! And I love this poem - especially " When you meet your friend on the roadside or in the market place, let the spirit in you move your lips and direct your tongue.
Posted 04/20/2021 10:26 AM
KevinArnold:
Id always heard of him, but never understood his complex roots, which fed his artistic outpouring. As usual, thank you Jayne.
Posted 04/20/2021 09:53 AM
cork:
Must I quit talking to myself?
Posted 04/20/2021 09:18 AM
Larry Schug:
Absolutely wonderful. His poem, "Desiderata", on a poster adorned my wall for many years back in the day. They are still words I try to live by. Thank you, Jayne for bringing this to us.
Posted 04/20/2021 07:04 AM