This morning one miracle
follows another
like seed beads on a necklace.
 
The full moon in its descent
illuminates wind-rippled water–
a dance of light.
 
Snow geese in flight,
fat bodies pink with sunrise,
fly overhead.
 
Five robins in a crab apple tree
red breasts afire with dawn
nibble on ripe jewels of fruit.
 
All my senses,
filling like buckets in rain
swell my heart.


© by Larry Schug.
Used here with the author's permission.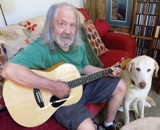 Larry Schug is retired after a life of various kinds of physical labor and currently occupies his time by volunteering as a writing tutor at the College of St. Benedict/St. John's University writing centers and as a naturalist at Outdoor U. He's also learning to play a cigar box guitar and is branching into putting music to words. Larry has published eight books of poems and lives with his wife, dog, and two cats near a large tamarack bog in St. Wendel Township, Minnesota.
juneinca@aol.com:
This is a beautiful poem - beautiful images, I love it.
Posted 06/26/2021 08:52 PM
Anastasia:
Beautiful gifts, indeed! Thank you for tying them up together in such a lovely poetic package!
Posted 04/26/2021 12:59 PM
Lori Levy:
Beautiful images that bring the scene alive for me.
Posted 04/25/2021 03:09 PM
Arlene Gay Levine:
Beautiful images from one who knows how to be present are a gift...Thanks, Larry.
Posted 04/25/2021 02:51 PM
Jo:
You filled many hearts this morning with your poem, Larry. How much the world gives us if we had but eyes to seeas you do. Thank you.
Posted 04/25/2021 01:23 PM
Corgicottage:
Larry...I was moved by your work. It swelled my heart.
Posted 04/25/2021 01:02 PM
Nicholas:
Beautiful! Bravo!
Posted 04/25/2021 12:19 PM
CamilleBalla:
Thank you for sharing your early morning view - an incentive to wake up earlier.
Posted 04/25/2021 11:41 AM
KinVT:
That was beautiful& truly captured the scene Thank you
Posted 04/25/2021 10:21 AM
cork:
The last time I saw snow geese at DeSoto Bend, I was buried in their sound.
Posted 04/25/2021 10:14 AM
RonPoems:
I like five robins in a crab apple tree, red breasts afire.
Posted 04/25/2021 10:07 AM
peggy.turnbull:
Dawn's transformation, the ordinary, emblazoned.
Posted 04/25/2021 09:11 AM
Gilbert Allen:
I enjoyed this fine poem, Larry. Thanks for sharing it.
Posted 04/25/2021 08:52 AM
Adaline:
Those who have eyes to see do and they testify in ways that help others see too (rhyming unintended...eek!). Thank you, Mr. Schug, for this uplifting gift of a poem.
Posted 04/25/2021 08:22 AM
wordartdjc:
Thank you, Larry, for reminding us all of what is truly important in our world
Posted 04/25/2021 08:06 AM
bobbi43sml@aol.com:
Your beautiful imagery drenched my soul and your bio and photo quenched my curiosity after reading your many comments . Thank you Larry
Posted 04/25/2021 07:45 AM