Open a book
And you will find
People and places of every kind;
Open a book
And you can be
Anything that you want to be;
Open a book
And you can share
Wondrous worlds you find in there;
Open a book
And I will too
You read to me
And Iíll read to you.


From Pass the Poems Please (WildThings Press, 1989).
Used here with permission.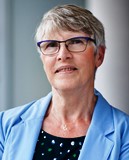 Jane Baskwill is a former elementary teacher, principal, and teacher educator. Author of three picture books, she has written numerous articles for educational journals and her poetry has appeared in many anthologies and reading series. Jane lives in Lawrencetown, Nova Scotia with her husband and two Great Danes. Learn more about her at www.janebaskwill.com.
Eta King:
My son shared about this poem in his school here in Fiji on the importance of books during their Book Drive Week with the theme "Connect to Books." He shared on how he love listening to his parents reading to him.
Posted 03/09/2023 04:30 AM
Janet Leahy:
This poem reminds me how wonderful it is to have someone read to me, I loved it as a child and it seems even more wonderful as an adult.
Posted 08/09/2021 03:21 PM
Wilda Morris:
Wonderful poem. It is good for adults but would also make a good picture book for children. I love the ending!
Posted 08/09/2021 10:25 AM
michael escoubas:
Profundity stated in deceptively simple terms. Thank you, Jane.
Posted 08/09/2021 09:47 AM
Darrell Arnold:
So many of us older folks treasure books, not books on a laptop or phone, but books of paper and ink that have weight, volume, and a physical presence. And the simple, elegant rhyming made Jane's message even more wonderful.
Posted 08/09/2021 08:27 AM
Rob:
Love the invitation to read aloud together at the end.
Posted 08/09/2021 07:17 AM