We always called maple seeds whirlybirds,
just as we always did so many things, as children.
We liked them best when they were yellow—
when tossed alone, in twos, or even bunches—
they came swirling down. Too green,
they fell with a plop. Too brown, too thin to fly,
or they fell apart, exposing their spider veins
like the vertical strings on a badminton racket.
If we had rain, mush, beside the welcome mat.
But this morning, sailing swiftly by my window,
catching the light—white and lovely,
delicate of drift—landing in a driveway crack
or in gutters in the fertile loam that once was
other maple leaves, those 'copters from the sky—
unshaken in purpose—became a circle of trees.

From Better With Friends (Rank Stranger Press, 2009).
This poem first appeared in The TMP Irregular.
Used here with the author's permission.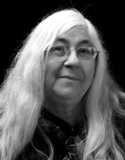 Helen Losse is the author of six collections of poetry. Former poetry editor of The Dead Mule School of Southern Literature, and current associate poetry editor for Kentucky Review, she enjoys reading and rail fanning. Helen lives in Winston-Salem, NC with her husband and a cat named Rosie. Read her blog at https://helenl.wordpress.com/.
Jo:
Really like your poem. I was just watching them this morning, trying to get them to land on my hand.
Posted 05/28/2015 03:31 PM
transitions:
Great observation = great poem, loved it.
Posted 05/28/2015 01:39 PM
vscholtz:
Thanks for re-framing my attitude about these bothersome fliers.
Posted 05/28/2015 11:29 AM
paradea:
I like this poem!!
Posted 05/28/2015 10:37 AM
rtaylor947@aol.com:
Beautiful poem, Helen!
Posted 05/28/2015 09:46 AM
Cindy:
Sometimes in a wind they almost look like snow, and I don't even have a maple tree. The neighbor trees share!
Posted 05/28/2015 08:21 AM
Larry Schug:
What we see when we keep our eyes open! The secret to good poetry?--Pay attention. Nice poem, Helen.
Posted 05/28/2015 08:08 AM
Supa:
How sweet. Love it
Posted 05/26/2015 05:53 AM