I saw the lovely arch
    Of Rainbow span the sky,
The gold sun burning
    As the rain swept by.

In bright-ringed solitude
    The showery foliage shone
One lovely moment,
    And the Bow was gone.


This poem is in the public domain.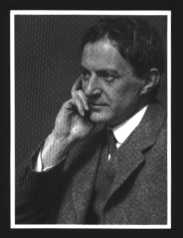 Walter de la Mare (1873 - 1956) was a British author of diverse talent who wrote everything from horror stories to children's books. Known to family and friends as "Jack," his work tended to focus around the themes of childhood, imagination, and the supernatural. Happily married to a woman ten years his senior, with whom he had four children, Walter spent nearly twenty years working as a bookkeeper before a government pension finally allowed him to fully devote his time to writing. For more information, visit The Walter de la Mare Society website.
peggy.turnbull:
I love the reminder that its beauty fades quickly. It's always worth stopping to watch a rainbow.
Posted 08/21/2021 06:53 PM
Wilda Morris:
Lovely poem. In Puerto Rico once we saw a complete double rainbow, one of the most awesome sights I have ever seen. But even a rather pale partial rainbow is beautiful.
Posted 08/20/2021 11:55 PM
eyes4heaven:
I haven't seen a rainbow in a long time, but whenever I do see one I get such a strong urge to run to it to see where it begins.
Posted 08/20/2021 10:51 PM
Anastasia:
I would love to see a rainbow soon, and often! Here in California, we currently have smokey skies and the apocalpyse-red sun.
Posted 08/20/2021 03:59 PM
KevinArnold:
Ah the fleetingness of it all . . . that rainbow, this life.
Posted 08/20/2021 10:17 AM
cork:
Why do I think of Hawaii?
Posted 08/20/2021 09:12 AM
Darrell Arnold:
Many of the rainbows I have known, and there have been many, are the magnificent and softening punctuation to a noisy and spectacular thunderstorm working it's way west to east across the landscape. As the rains start letting up, I start looking eastward, waiting for that final glorious display that tells me it's over. It is always accompanied by the sweet scent of rain.
Posted 08/20/2021 08:47 AM