Silence rises in the canyon,
wilding in like fog, clinging
to buckthorn and desert mallow,
the sharp contours of the hills,
the split to the Backbone Trail,
the curls of the dried-up stream
and fallen sycamore leaves.

But there is the whisper of a fly
on manzanita, washing its face, hands,
a trace of spider breath,
web rustling like the distant fall of air,
sparkle echoing across a rock.

There is the faintest whoosh
as rocks dissolve into sand,
the willow's bark loses its finish,
ferns unfurl, dry, and fall,
chaparral swallows air and light.

There is the thrum of the hummingbird's thin heart,
the slurp of the bird juicing a bloom,
the rasp of butterfly wings,
the crackle of a stinkbug's steps,
the susurration of a king snake's slink.

There is the deer's intake of breath,
the chuffle as it gulps up water,
drips from its muzzle,
the nosing of a doe and her fawn,
their dreams as they sleep under a tree.

Hear the silence
of the canyon.

Listen, for the silence is telling.

This poem first appeared in Albatross (Spring 2021)..
Used here with permission.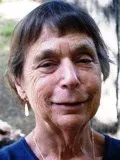 Ruth Gooley is the author of a chapbook, Living in Nature, and has had poems published in a variety of journals. She lives in a cabin in the Santa Monica mountains, in harmony with the abundance of nature there.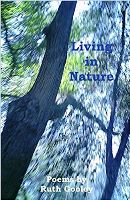 Ann F:
Thank you for taking me out of the noise of machines clicking, appliances humming, freeway roaring, and clicking laptop keys that fills even the "silence" of 10:30 pm in the city. Why does the full silence of your canyons seem so much more human to me?
Posted 09/05/2021 01:31 AM
Janet Leahy:
we can hear every beautiful line of this poem, thank you.
Posted 09/04/2021 08:06 PM
Lori Levy:
Beautiful images and language.
Posted 09/04/2021 03:46 PM
michael escoubas:
WOW! How loud the silence!! Well done, Ruth . . . I'm taking notes on the "slurp of a bird juicing blooms."
Posted 09/04/2021 11:31 AM
Sharon Waller Knutson:
I love this photographic sensuous poem. The vivid imagery takes my breath away. I am on the Backbone Trail watching the wildlife, listening to the whisper of the fly, smelling the spider's breath, hearing the thrum of the hummingbird's heart, the rasp of butterfly wings, the deer gulping water and the nosing of the fawns as they sleep and dream.
Posted 09/04/2021 11:08 AM
Jancan:
Vividly descriptive and expressive!
Posted 09/04/2021 10:21 AM
MLove:
Beautiful!
Posted 09/04/2021 09:51 AM
Larry Schug:
I find it enchanting how these almost silent sounds are made so audible in these words. This is also a very visual poem. Good work!
Posted 09/04/2021 08:17 AM
bobbi43sml@aol.com:
Every line a silent prayer to the wonders of nature. Bravo bravo ( I whispered that)
Posted 09/04/2021 08:09 AM
Rob:
Such lovely images of silence! Personal favorite: "the faintest whoosh/as rocks dissolve into sand". Silence and this poem reveal so much!
Posted 09/04/2021 07:07 AM
jamvan:
wonderful
Posted 09/04/2021 05:11 AM