Because air fills
where nothing is.

Because wind is air that is moving.
It pushes the clouds across the sky.

Because clouds are water floating in air.
The water falls as rain
and the earth becomes mud
and then worms come out and play.
Careful! Donít step on worms.

Because worms are alive. They eat earth.
They breathe air, drink water.

Because you make me explain
the simple poetry of everyday life.

Because life with you is my earth, water, sky.
Thank you for asking why.


© by Joe Cottonwood.
Used here with the authorís permission.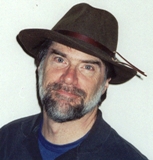 Joe Cottonwood is a semi-retired contractor with a lifetime of small jobs repairing homes. He lives with his high school sweetheart under redwoods in the Santa Cruz Mountains of California, caring for curly-haired dogs and straight-haired grandchildren. Joe's latest book is Random Saints. Learn more about him at www.joecottonwood.com.
barbara eknoian:
I've been a fan of Cottonwood since I heard his first poem.
Posted 09/14/2021 03:23 AM
Anastasia:
I don't have any kids of my own, but I've always enjoyed my nieces and nephew, and my friends' kids, for just this reason!
Posted 09/11/2021 08:47 PM
BAMars:
Love this, Joe. Good grandpa, excellent poet.
Posted 09/10/2021 03:25 PM
Lori Levy:
Beautiful!
Posted 09/10/2021 03:00 PM
peninsulapoet:
Always love a Joe Cottonwood poem
Posted 09/10/2021 01:40 PM
Jancan:
Oh, yes, those young ones are so curious, full of questions. Expressive, thougtful piece
Posted 09/10/2021 09:27 AM
wordartdjc:
How I do wish my great-grandchildren were this age again. The marvel of it all was so fulling to explain. Lovely poem! THANK YOU.
Posted 09/10/2021 08:53 AM
pwax:
Perfect!
Posted 09/10/2021 08:20 AM
Sharon Waller Knutson:
Perfect poem and perfect answers to perfect grandchildren. Perfect last stanza: Because life with you is my earth, water, sky. Thank you for asking why.
Posted 09/10/2021 08:11 AM
Rob:
Beautiful! Love each individual idea/image and the progression of the whole!
Posted 09/10/2021 06:12 AM