My grandmotherís long fingers graceful,
knife shining in the morning light
as she spread butter on the thick,
warm sourdough. She could make
the most beautiful breakfast.

A coddled egg neatly cracked, steaming
in a cup. Salt. Pepper. Fresh-squeezed
orange juice in a tall glass like a cocktail.
Ripe raspberries in a bone-white bowl.
Folded linen napkins.

The kitchen glowed with her gentleness,
Southern stories. The food rich as cake
in my small mouth, her sweetness like candy.
Now, sometimes when a butter knife catches
the light, I am still filled with all of it decades later.


© by Fredric Hildebrand.
Used with the authorís permission.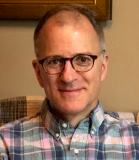 Fredric Hildebrand, a retired physician in Neenah, Wisconsin, is the author of two poetry chapbooks, Northern Portrait and A Glint of Light. When not writing or reading, he enjoys playing acoustic guitar and exploring the Northwoods with his wife and two Labrador retrievers.
Lori Levy:
Beautiful tribute to your grandmother.
Posted 09/12/2021 02:33 PM
ranchhandwife:
Just decadent! Wish we could all have this memory, but I shall savor yours, thank you!
Posted 09/12/2021 01:10 PM
Janet Leahy:
Oh, for more of the "folded linen napkins," I love the touches of elegance in this poem/
Posted 09/12/2021 12:41 PM
CamilleBalla:
What a wonderful memory when the butter knife catches the light. Thank you.
Posted 09/12/2021 11:30 AM
Glen Sorestad:
A wonderful memory-poem to start the day. Thanks, Frederic!
Posted 09/12/2021 11:03 AM
wordartdjc:
A truly lovely poem. This is a 'keeper!
Posted 09/12/2021 11:02 AM
KevinArnold:
Yes, elegant as a gleaming butter knife.
Posted 09/12/2021 10:28 AM
Sharon Waller Knutson:
I love this delicious elegant poem. I can see the grandmother's long graceful fingers buttering the bread and taste the coddled egg, sourdough and fresh orange juice.
Posted 09/12/2021 09:25 AM
Larry Schug:
The detail of "when a butter knife catches the light' is what being present is all about. That little glint of light just explodes. Magnificent!
Posted 09/12/2021 08:20 AM
Rob:
Great memories and poem celebrating them! Love the last line!
Posted 09/12/2021 05:57 AM