The hills are clad in purple and in gold,
The ripened maize is gathered in the shock,
The frost has kissed the nuts, their shells unfold,
And fallen leaves are floating on the lock.

The flowers their many-colored petals drop;
But seed-pods full and ripe they leave behind,
A prophecy of more abundant crop,
And proof that nature in decay is kind.


This poem is in the public domain.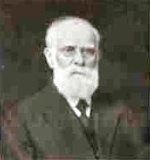 Joseph Horatio Chant (1837 – 1928) was born in England, but moved to Canada with his parents as a toddler. An ordained minister, Joseph's poetry often celebrates the beauty of the natural world.
paradea:
Love this...especially the last line!!
Posted 09/23/2021 10:35 AM
KevinArnold:
Yes, as Jayne says, Chant celebrates of the beauty of the natural world, yes, and its efficacy too.
Posted 09/23/2021 09:50 AM
cork:
The words shock and lock are interesting.
Posted 09/23/2021 09:12 AM