I love the old men on their motorbikes,
looking so happy,
as if they've stolen
years they thought were lost to them—
cheated death
in a last, mad, joyful
dash for freedom
on a narrow, perilous,
one-lane road.


From The Light on Sifnos (Blue Light Press, 2021).
Used here with permission.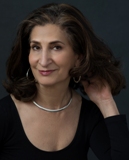 Barbara Quick is a novelist, journalist, and poet. Her work has appeared in many magazines and journals, including the New York Times, Newsweek, People, and Ms. Barbara's newest novel is The Light on Sifnos, which won the 2020 Blue Light Press Poetry Prize. Her 2007 novel, Vivaldi's Virgins (HarperCollins), thus far translated into 12 languages,is now available in audiobook format. Barbara lives on a small farm in Sonoma County, California with her husband, Wayne Roden, a violist for the San Francisco Symphony and owner of a boutique wine business. An avid dancer, hiker, and nature lover, Barbara divides her time between writing and tending to her edible gardens. Learn more about her at www.barbaraquick.com.
p>
Lori Levy:
Great!
Posted 10/04/2021 09:04 PM
Adriana:
Beautiful! The "narrow, perilous, one-lane road" describes so perfectly our declining years...
Posted 10/04/2021 01:02 PM
Jancan:
Concise and powerful! I see them all the time.They look so free and happy!
Posted 10/04/2021 12:54 PM
Sharon Waller Knutson:
I love this sparse insightful poem explaining why you see so many white haired seniors on motorcycles and ATVs riding on our gravel road and the trails up the mountains in Arizona. They are making up for lost time chained to a desk.
Posted 10/04/2021 10:53 AM
paradea:
Love this one sentence poem!! Reminds me of my eighty-three-year-old brother going down the interstate on a three wheeler, with his son following along behind him in a pick-up truck. Great story when my nephew tells it!! Ride on, brother!!
Posted 10/04/2021 09:57 AM