Driving to my Mom's on this
bright October day, woolly bears
are all over the road.
 
I try to remember if this means
warm winter, or cold winter?
So many! I drift this way and
that, trying to miss. I don't cross
the center line, but I give them
every chance I can.
 
Suddenly, in my rearview, I've
got a real bear—brown-squadded
County Mountie. He comes up quick,
then drops back, watching.
After the first mile, he figures
it out, and for the next five, he
follows my quick-step lead, all
the way into town.
 
This poem first appeared in the
Wisconsin Fellowship of Poets' 2013 Poets' Calendar.
Used here with permission.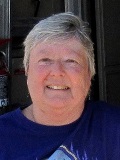 Yvette Viets Flaten was born in Denver, Colorado, and grew up in an Air Force family, living in Nevada, North Dakota, and Washington State as well as France, England, and Spain.  She holds a Bachelor of Arts in Spanish and a Master of Arts in History, and her award-winning poetry has appeared in numerous journals. Yvette now lives in Eau Claire, Wisconsin, near the mighty Chippewa River.
nrw23@earthlink.net:
Totally see them in my minds eye as I read this lovely poem, topping off the images with a smile.
Posted 10/14/2021 11:19 PM
Jo:
Thanks for the woolly bears. I see so few these days though in childhood they were everywhere. The real bear following you gave your poem a good spinthe simplicity of your poem is lovely.
Posted 10/14/2021 01:00 PM
joecot:
On behalf of the woolly bears, I thank you. And as a reader of simply enjoyable poetry, thanks again. (Where I live, we dodge frogs in the road.)
Posted 10/14/2021 11:49 AM
Sharon Waller Knutson:
i absolutely love this poem from the unique captivating title to the last line. My favorite images are: "brown-squadded County Mountie" and "quick-step lead."
Posted 10/14/2021 10:11 AM
KevinArnold:
Yes to michael and Larrys comments. I second them.
Posted 10/14/2021 09:56 AM
michael escoubas:
The best poems arise from our everyday experiences, Yvette . . . this is ample proof!
Posted 10/14/2021 09:45 AM
Larry Schug:
A surprising story, told only a a poem can tell it, very skillfully done, especially when the "County Mountie" makes his appearance. The wooly bears thank you!
Posted 10/14/2021 08:12 AM