A break in trees
Gone gold and scarlet
With October
Reveals a glade.
†
Wind rushes through oak leaves
Like violin notes
Over the steady plashing
Of a forest fountain.
†
Dusk covers dayís face
With supple silk,
Hiding silken lips
From peeking stars.
†
A quietus, a respite,
A benison even,
For more ends here
Than just a day.


© by Robert Walton.
Used here with the authorís permission.
†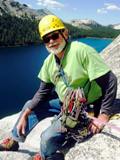 Robert Walton is a retired middle school teacher and a lifelong rock climber with many ascents in the Sierras and Pinnacles National Park. His publishing credits include works of science fiction, fantasy, and poetry. Robert's historical novel, Dawn Drums, won the Tony Hillerman Prize for best fiction in the 2014 New Mexico Book Awards. Most recently, his short story, "Do you feel lucky, Punk?" received a prize in the 2018 Bartleby Snopes Dialogue Only contest. Learn more about Robert at http://chaosgatebook.wordpress.com/.
Larry Schug:
A painting in words, a story when read aloud. Thank you for a word I had not known--benison.
Posted 10/24/2021 08:57 AM
bbatcher:
I especially like the last stanza.
Posted 10/24/2021 06:27 AM