Savor the frothy,
sugar-edged foam
followed by bitter
espresso.
What genius
discovered that
steam injected into
bland milk turned
vapid liquid into
silky froth that
perfectly lightens the
dark side of coffee?


© by Norma Wightman.
Used with the authorís permission.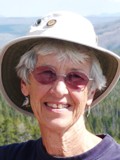 Norma Wightman lives in Morro Bay, California where she walks the beach daily, leads nature hikes in local state parks, and enjoys yoga, kayaking, and birding around the beautiful central coast. Norma's poems, which she says are "inspired by everyday items and nature," have appeared in local publications and art exhibits.
cork:
I see a monk's white hood!
Posted 11/08/2021 11:32 AM
wordartdjc:
Short, Sweet, and Delicious! Yum!
Posted 11/08/2021 10:34 AM
NormaB:
From one Norma to another, I appreciate your perspective!
Posted 11/08/2021 10:20 AM
Lori Levy:
Great! I can taste it.
Posted 11/08/2021 09:55 AM
Michael:
Love the subtle implications of light vs dark to the delight of the taster's tongue. Nicely done Norma.
Posted 11/08/2021 09:02 AM