26 November 2015 – Thanksgiving Morning – Pharr, Texas

Forget
those black
bottom-line day
specials. This is
the real deal reason:
Coffee & conversation
& New York TV parades;
dried bread crumbled &
vegetables well chopped,
sautéed amidst savory seasons,
parsley, sage, rosemary & thyme,
stuffed into a plump, thawed
turkey, set to roast within
an over full capacity oven.
houses smell like home;
Holiday scents & sweet
potato aromas mingle
into a green bean meld;
red cranberry relish,
sweet & tart & cool,
a blend held at ready,
while pecan pieces
& pumpkin orange
become skillfully
transformed into
fragrant memory
crusted pies.


© by Elizabeth Perdomo.
Used here with the author's permission.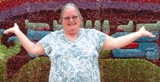 Elizabeth Perdomo has lived and written in the Rio Grande Valley of South Texas for the past 19 years, moving to the region from the Rio Grande Valley of New Mexico. Born in Kansas and raised both there and in Colorado, she also lived in the southeastern U.S. for a number of years. Elizabeth has been writing poetry since her teen years, on topics that include local place and culture, cooking, gardening, ecology and nature, traditions, spirituality, and more. The author of One Turn of Seasons, featuring poetry about people and places in East Tennessee, her work is also featured in the anthology, Kansas Time + Place and in various publications, including Heartland, Writers of the Rio Grande, Chachalaca Review, and Interstice.
Jancan:
Wow! Pass me a plate and make room at the table! :-)
Posted 11/26/2021 09:39 PM
MLove:
SOunds like you were at our house yesterday!!!
Posted 11/26/2021 06:23 PM
Lori Levy:
So appealing. I can smell and taste everything!
Posted 11/25/2021 02:42 PM
KinVT:
houses smell like home beautiful! That truly sums up Thanksgiving for me. Thank you for capturing that in words.
Posted 11/25/2021 11:13 AM
paradea:
Happy Thanksgiving!!
Posted 11/25/2021 10:48 AM
cork:
The magic is in the details.
Posted 11/25/2021 09:37 AM
Adriana:
Lovely mouth-watering images - especially that "sweet, tart, and cool cranberry" -except for the turkey. Per previous comment: Peace be with turkeys. This is no beautiful time for them.
Posted 11/25/2021 09:30 AM
wordartdjc:
Sincere wishes to all for a wonderful holiday. Yes, I am so thankful that my grand family will be saying the blessings around our dinner time today. God is good.
Posted 11/25/2021 09:17 AM