Today's pumpkin-colored yolks scramble
with bubbly beaten whites,
the foam a color Kandinsky
would drool for.
Frying eggs sizzle serenades
harmonize with salty bacon
sport accents of poblano and cheddar
their taste delicate as their shells.
 
If this is all you know of eggs
it is sufficient.
 
As for me,
blessed with hens,
my hands wonder  
at the warmth
each egg entrusts
exquisite as any snowflake or rose
 
And in my dimpled basket
their pastel rainbow—  
tans, blues, greens—
seals an understated promise.

This poem first appeared in Third Wednesday Magazine.
Used here with permission.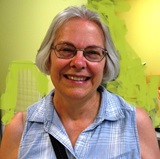 Nancy K. Jentsch calls herself "a second-career poet," having taught German and Spanish at Northern Kentucky University until 2020. She claims to now be "walking through life looking for just the right words, enjoying the thrill of the hunt and the mystery of the power of language." Nancy's poems have been published in various online and print journals and her first collection (Between the Rows, Shanti Arts) is scheduled for release in 2022. Nancy says one of the best compliments she ever received was a friend's comment about one of her poems: "I don't like poetry, but I like this." Learn more about Nancy, who lives in Camp Springs, Kentucky, at https://www.facebook.com/NancyJentschPoet.  
Lori Levy:
This poem gives me a new way of looking at eggs.
Posted 11/29/2021 07:34 PM
VodVonDetta:
The most beautiful thing a friend ever said to me, was 'May I offer you an egg in this trying time?'. Their thoughts and well wishes keep me warm to this day.
Posted 11/29/2021 09:58 AM
Sharon Waller Knutson:
This poem is downhome, delightful and made my mouth water. i loved the alliteration and metaphor of eggs as a recipe for life.
Posted 11/29/2021 09:01 AM
cork:
I am fascinated by the music and the accents of pepper and cheese.
Posted 11/29/2021 08:50 AM
Larry Schug:
A poem that elevates the reader. The words contain the wonderful element of texture.
Posted 11/29/2021 08:35 AM