I wrote a poem a year ago
about an inflated man of snow
a grinning, lit-up, cheerful presence
giving comfort and joy beyond his essence.
But one night
brought quite a fright:
four cartoon inflateds, plus a Christmas train,
had invaded his space; I feared for the strain
of all that light. Sure enough, next night
their yard was dark.
The six deflateds looked so stark
lying down all over the ground
that my talkative dog didnít make a sound.
The rest of December, the same sad heaps
told us comfort and joy were gone for keeps.
So please, Christmas people, rein in your excess;
more is not always better than less.
One cheerful snowman once carried the night.
I hope heíll be back. He was such a delight.


© by Alessandra Foster.
Used with the author's permission.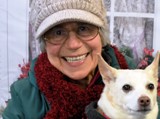 Alessandra Foster is a native New Yorker who has lived in Milwaukee, Wisconsin for the past twenty-six years. A life-long and long-lived reader and writer of poetry, she is a fan of TCM and Hallmark movies, has been a vegan for forty-one years, and is the grateful companion to a sweet-tempered (indoors) chihuahua-terrier named Diamond.
Anastasia:
Oh, dear. Sometimes, more is just more.
Posted 12/11/2021 03:53 PM
Lori Levy:
Like the humor in this poem!
Posted 12/04/2021 09:47 AM
njc:
Less is more, for sure. A single string of colored lights hung in snow beneath the stars is enough.
Posted 12/04/2021 09:47 AM