I am the UK's favourite bird,
Of that there is no doubt.
Small and round and red of breast,
You'll know when I'm about.

The first to sing at break of dawn,
The last to sing at night,
Worms and insects are my prey
And serve my appetite.

The neighbourhood wherein I live
I fiercely do defend;
Should other robins enter in
I'll swiftly apprehend.

The gardener's friend, I get quite tame
And closely watch each dig.
I'll even sit upon the spade
When workers have a swig.

I'm known to often make my nest
In junk that suits me fine;
Kettles, teapots left outside...
Hop in, I'll make them mine.

Throughout the year I'll be around;
In winter I'll impress,
For I'll turn up in every post--
On Christmas cards no less!


© by Nick Balmforth.
Used with the authorís permission.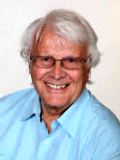 Nick Balmforth is a retired safety inspector of children's indoor play centres. His primary published work has been in the field of safety standardization for the British and European indoor play industry and he was awarded an MBE (Member of the Most Excellent Order of the British Empire) for his work in 2012. Nick is also a successful voice-over artist and, in addition to poetry, enjoys jazz. He lives in Staffordshire, England.
Jancan:
This is my kind of poem--vividly descriptive, with rhyme and meter!
Posted 12/03/2021 12:11 AM
Adriana:
Another fun poem from you. I own a fat little ceramic robin from a European cousin. Now I know why it looks a bit different from local robins... Enclosed your poem "And That's It!" in my Christmas letter for fellow tech-challenged recipients to enjoy as much as I do...
Posted 12/02/2021 11:22 AM
paradea:
Nice to read aloud!!
Posted 12/02/2021 10:00 AM
cork:
My friends tell me they know it is poetry if it rhymes. Yours is poetry.
Posted 12/02/2021 08:56 AM
Larry Schug:
Likewise have been inspired by robins. I was not aware they nested in things like tea pots. I much like the image of a robin perched on a shovel when the workers take a swig.
Posted 12/02/2021 08:51 AM
KateTompkins:
Cute.
Posted 12/02/2021 08:25 AM
Darrell Arnold:
Nice job, Nick. I've been working on a poem of my own about robins (American thrushes) here in northern Arizona. Ours, too, are a dominant bird in our yards, but only during the warmer months. I like your work, sir.
Posted 12/02/2021 08:12 AM