Blue, blue is the sea to-day,
     Warmly the light
Sleeps on St. Andrews Bay--
     Blue, fringed with white.

That's no December sky!
     Surely 'tis June
Holds now her state on high,
     Queen of the noon.

Only the tree-tops bare
     Crowning the hill,
Clear-cut in perfect air,
     Warn us that still

Winter, the aged chief,
      Mighty in power,
Exiles the tender leaf,
      Exiles the flower.

Is there a heart to-day,
     A heart that grieves
For flowers that fade away,
     For fallen leaves?

Oh, not in leaves or flowers
     Endures the charm
That clothes those naked towers
     With love-light warm.

O dear St. Andrews Bay,
     Winter or Spring
Gives not nor takes away
     Memories that cling

All round thy girdling reefs,
     That walk thy shore,
Memories of joys and griefs
     Ours evermore.


This poem is in the public domain.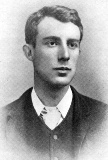 Robert Fuller Murray (1863–1894), was born in America but lived most of his life in Scotland, where he worked as a research assistant and journalist. Robert wrote two collections of poetry, one published prior to his death, the other afterwards.
Anastasia:
Thank you for introducing this poet to me, Jayne! And yes, it's December, but it's bright and sunny, and we have the windows open and the fans on. We're supposed to finally have some rain tomorrow. *crosses fingers*
Posted 12/11/2021 03:44 PM
Michael:
I like the aesthetic appeal in this poem, looks nice on the page, but of greater importance is the rhyming skill and delightful diction one can easily see from the pen of this poet who was unknown to me until now. Very nice post, Jayne.
Posted 12/11/2021 09:40 AM