The red sandstone canyon glows, lit
with the fiery sunsetís reflection.
There is no trail, but the canyon sides
themselves usher me along through
mesquite and sagebrush until I reach
the blunt end of this box canyon.
†
I stand for several minutes soaking in
the auraó no sound, no wind around me.
My skin prickles. Is there a sudden drop in
temperature? Senses on alert, I hear no
sound I can distinguish, yet my ears
strain as if there should be sound.
†
I sense I am on hallowed ground.
Soundlessly, I lift my hands in
Namaste, hoping my peaceful walk
is not an intrusion on ancestral land.
I am alone, but not alone.


© by Norma Wightman.
Used with the authorís permission.
†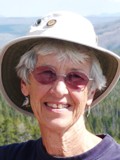 Norma Wightman lives in Morro Bay, California, where she walks the beach daily, leads nature hikes in local state parks, and enjoys yoga, kayaking, and birding around the beautiful central coast. Norma's poems have appeared in local publications and art exhibits and she has published chapbooks for family and friends. Her inspiration, she says, comes from everyday items and nature.
Anastasia:
"I am alone, but not alone" - one of the best parts of being in nature.
Posted 01/17/2022 03:01 PM
Jancan:
Vividly descriptive of an awe-inspiring experience
Posted 01/14/2022 03:07 PM
Jancan:
Vividly descriptive of an awe-inspiring experience
Posted 01/14/2022 03:07 PM
Lori Levy:
Beautiful. I feel like Im there.
Posted 01/13/2022 02:15 PM
wordartdjc:
Belief in the mystic is a wonderful gift. There are few times in our lives that this special wonder is noted and when it is we never forget it.
Posted 01/13/2022 12:16 PM
Michael:
Appreciate the reverence for Nature. Like the intimacy, the relationship that is implied. I have a principle that influences my writing: "The outer visible world is analogous to the inner, invisible world of people." This poem is right there.
Posted 01/13/2022 11:54 AM
MatthewMiller:
What a beautiful picture this paints!
Posted 01/13/2022 10:22 AM
Pat Brisson:
I love the respectful awareness of the last stanza. Beautiful!
Posted 01/13/2022 08:50 AM
KevinArnold:
She turns seeing is believing upside-down.
Posted 01/13/2022 08:43 AM
Larry Schug:
This poem takes me back to several "off trail" expeditions at Ghost Ranch. There is much to ponder in the last line, which captures very nicely the way that being by oneself in nature can inspire. It is a truth.
Posted 01/13/2022 08:03 AM