But they were good,
Those Perry Mason rerun nights
With slightly burnt aluminum-clad dinners—
The smooth, chemical-tasting potatoes
That coated your tongue,
Leathery beef with tomatoes, and
Oh! the dessert, the sweet chalky pudding!
Perry addressed the court, pointed out
The real killer, who always tried to run!
The cop's meaty hands
Grabbed him at the door, and
We gave our trays to Sam, the beagle,
who licked them each in turn.


This poem first appeared in Panoply (January 2016).
Used here with permission.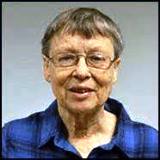 Janet McCann taught creative writing and other vices to Aggies at Texas A&M for more than forty years. Now a professor emerita, she lives in College Station, Texas, with her dog. Janet's award-winning work is widely published in several genres, including textbooks, biographies, and poetry. Her most recent book is Life List: New and Selected Poems, from Resource Publications. Janet has a special concern for feral cats and other beings who are overlooked or abused.
Jancan:
Very descriptive and expressive! Thank goodness there are really good tv dinners to choose from. I still watch Perry! :-)
Posted 01/19/2022 10:07 AM
Adriana:
Fun poem. TV dinners forgotten or never purchased? How is this possible! Since I don't cook, I eat a frozen entree (classier name, healthier plant-based ingredients) every day. Yes, to Perry Mason, Matt Dillon, Buddy Ebsen, Telly Savalas...
Posted 01/18/2022 06:41 PM
Lori Levy:
I like the humor in this poem and remember those TV dinners.
Posted 01/18/2022 04:55 PM
Anastasia:
This brings back such memories! "TV Dinner Night" was such a treat for me and my brotherswe got to choose our own at the store, among such exotic choices as the Swanson "Mexican Dinner" or the "Chinese Special"we felt so sophisticated! Then on Saturdays, my father would make chili, and we'd watch the Sidney Toler "Charlie Chan" movie being aired on the one UHF channel, which ran them all in order, over and over, for a year. Thank you for stirring such happy thoughts!
Posted 01/18/2022 01:39 PM
RonPoems:
TV dinners. Wish I was a Swanson.
Posted 01/18/2022 11:54 AM
Jgonzalez 1994:
I never watched perry Mason but I love the way you describe a day watching the show. Great poem
Posted 01/18/2022 10:59 AM
wordartdjc:
Never did purchase TV dinners but I can relate to the late-night radio broadcasts like the Shadow, etc. I just am one or two decades earlier than most of you. It kept us going after four hours of homework just before bedtime. Poem did bring back memories...
Posted 01/18/2022 09:37 AM
Gilbert Allen:
Ah, yes--and to complement those TV dinners, the hapless prosecuting attorney was Ham(ilton) Burger.
Posted 01/18/2022 09:17 AM
cork:
I had forgotten about TV dinners. I think there were also folding TV trays.
Posted 01/18/2022 09:11 AM
Sharon Waller Knutson:
I love this humorous clever poem. The title, Middle Class Nostalgia is perfect. I'm guilty of watching Perry Mason and eating TV dinners and letting the dog lick the plate. Favorite image: the cop's meaty hands grabbed him at the door.
Posted 01/18/2022 08:53 AM
Rob:
Great description of those memories--both the TV and the TV dinners! I'd forgotten about those! Fun shared experience (only we had a collie that licked the trays clean :)
Posted 01/18/2022 06:30 AM