We are living in the now time
of uncertain feet
and tissue paper plans.  
To see beyond requires a willingness
to hold the railing,
when we don't know where
the stairs lead.
So, we stand 6 feet apart,
take comfort in the small things
we can share,
like the recipe for lentil soup
or a photo of wildflowers
on our morning walk.  
How odd to move forward
when it feels like
we're on a bridge to nowhere.  
The secret is simply to move
every day and remember how
our hands once connected in greeting.  
We will touch palms again.  

 
From The Sound of a Collective Pulse (Kelsay Books, 2021).
Used here with permission.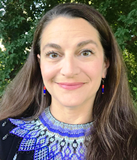 Cristina M. R. Norcross is the author of nine poetry collections and the editor of the online poetry journal, Blue Heron Review. Her most recent collection is The Sound of a Collective Pulse (Kelsay Books, 2021). During the pandemic, Cristina taught herself how to knit scarves, and has made one for almost every member of her extended family. She is thankful that long walks by the lake, where she lives in southeast Wisconsin, have replaced going to the gym. The natural world finds its way into much of Cristina's writing. Learn more about her at www.cristinanorcross.com.
paula:
Lovely and encouraging. We look forwarad with hope.
Posted 02/01/2022 05:20 AM
Jo:
Very timely poem, Cristina and your images are so good. I, like, Lori, like that line too about the railingsholding on when we dont know where the stairs lead Please send your new bookIll send a check.
Posted 01/28/2022 11:53 PM
Arlene Gay Levine:
Love this poem- its ability to lighten the heaviness of a dark time by enjoying simple things we can still cherish- lentil soup, wildflowers; I'm right there with you, Cristina!
Posted 01/28/2022 02:32 PM
KinVT:
Well chosen words & images. Evocative phrases. Very nice!
Posted 01/28/2022 01:08 PM
Janet Leahy:
Cristina it is so good to read your poetry again. I miss those lovely readings you hosted in the past, hope we can do that again before too long. Your poem today helps us deal with the "now time". Thank you.
Posted 01/28/2022 12:18 PM
richard.cary@att.net:
I did not stop touching palms. Nor will I.
Posted 01/28/2022 11:36 AM
CamilleBalla:
Take comfort in the small things we can share. So true. I too like the line about holding the railing. More of us these days living in the now time , imo. Thank you for this poem.
Posted 01/28/2022 11:32 AM
joecot:
Poems touch. Yes, one day we'll touch palms, too.
Posted 01/28/2022 11:02 AM
Lori Levy:
Great line about holding the railing when we dont know where/the stairs lead.
Posted 01/28/2022 09:43 AM
Ron Stewart:
Cristina, you have said perfectly and beautifully what I miss most in these dark days. The freedom without fear to hug a friend; to shake hands with a new acquaintance who may someday also call me friend.
Posted 01/28/2022 08:43 AM