across from our home
a neighbor cleans her windows--
first stirrings of spring


From The Funny Thing About a Poem (2019).
Used here with permission.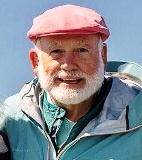 Randy Cadenhead is the author of a number of books of poetry and prose, most recently At Sea, about life on the water, and A Christmas Carol Refrain, which explores the later life of Ebenezer Scrooge. Although he teaches at Emory Law School, you are more likely to find Randy sailing somewhere in search of the perfect sunset. Randy lives in Decatur, Georgia; learn more about him at www.randycadenhead.com.
Anastasia:
The first birds of spring, the first cleanings of springboth are good signs!
Posted 03/24/2022 05:45 PM
Lori Levy:
Original. I like it!
Posted 03/24/2022 04:23 PM
Tracers645:
I just love a good Haiku.
Posted 03/24/2022 02:14 PM
Janet Leahy:
I really should use this poem as a reminder to clean my windows, but not today. Great haiku.
Posted 03/24/2022 01:04 PM
Jancan:
This is an excellent haiku with a timely message.
Posted 03/24/2022 08:31 AM